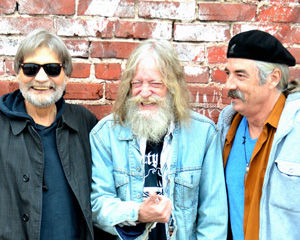 Together for the first time, the Oklahoma singer/songwriters considered by many to be the taproots of what is called Red Dirt Music will play Tulsa, Friday January 30th. Presented by Red Dirt Nation are Oklahoma's own Red Dirt pioneers Randy Crouch, Tom Skinner and Chuck Dunlap, in a rare four city home state concert tour beginning in Tulsa. Other cities included are: Tahlequah, Stillwater and Oklahoma City.

Randy Crouch has been a foundation for Oklahoma's Red Dirt music scene since the beginning of the music when dirt was young.  He is often called the "World's Greatest" rock-n-roll Fiddler, but he also plays electric, acoustic & pedal steel guitar, dobro, piano & keyboards, banjo and mandolin.  His influence extends deep into Oklahoma music of all types, including Folk, Bluegrass, Blues, and Country. Crouch often refers to his songs as "Oklahoma Protest music." Others call it Folk Rock, but it is mostly just fun.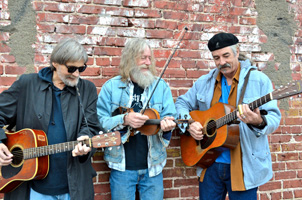 Oklahoma Music Hall of Fame inductee Tom Skinner is one of the originators of the Red Dirt sound and has done his fair share to keep it going since inception. Among other efforts; his weekly Tom Skinner Science Project shows have been a vibrant part of the Tulsa scene for the past 15 years.
If you were to talk to any artist from Oklahoma who cut their teeth on Red Dirt music, you would be hard pressed to find a single one who doesn't contribute some portion of their success and development of their craft to Tom Skinner.
Chuck Dunlap was on the ground floor of the acoustic singer-songwriter genre that would later become known as Red Dirt in Stillwater Oklahoma.  He was one of the first Stillwater musicians to release music embracing the multi-genre facets of Red Dirt. Dunlap is notably influential on the entire Red Dirt singer/songwriter tradition and even the late Bob Childers credited Dunlap's songwriting with enticing him to Stillwater.
Plan to attend Friday, January 30th at The Vanguard Music Hall, 222 North Main Street, Tulsa Oklahoma. Click here for more. This is a show not to miss.
The performance begins at 8:00 PM with doors opening at 7:00 PM.  Tickets are $10 in advance $15 at door with advance online tickets available at www.ticketstorm.com  or by calling 866-966-1777. Advance tickets are also available at Starship Records & Tapes in Tulsa.