On Tuesday, Sen. Ron Sharp filed legislation to increase accountability and transparency of taxpayer dollars through strengthening Oklahoma's Performance Informed Budgeting (P.I.B.) system. Senate Bill 189 would remove Zero-Based Budgeting from Oklahoma statutes as the state no longer uses the system and would refocus legislators' attention to the importance of the state's Performance Informed Budgeting System.
Each year, House and Senate appropriations subcommittees are required by law to hold budget and performance review meetings with all state agencies that they oversee. This bill will place increased emphasis on the performance review aspect of the meetings.
"A Performance Informed Budgeting process moves the focus away from simply how much an agency receives to what an agency can achieve with allocated funds. We, as a state, can no longer afford to throw money into the wind with no accountability as to how our state agencies are using those funds," said Sharp, R-Shawnee. "When agencies are forced to account for why and how they're spending every dollar, they typically discover that there are areas where they can cut back or simply reallocate funds to a different department. This system has led to significant cost savings for other states and it's beginning to help ours as well."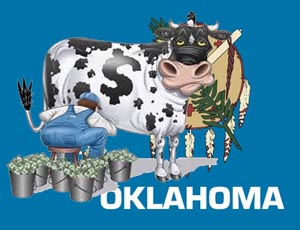 Sharp worked with Secretary of Finance, Administration and Information Technology Preston Doerflinger and State Auditor and Inspector Gary Jones in crafting the bill.
"Performance informed budgeting ties government spending to measurable goals and outcomes so government can be more effective in how it deploys taxpayer resources during the budgeting process. This legislation is one of many steps the state must take to improve how budgets are built and results are tracked," said Doerflinger. "Oklahoma's budget process needs change, and I commend Senator Sharp and other legislators for pursuing improvements like this that represent smarter, better approaches for taxpayers and the services government provides them."
Jones said the P.I.B. budgeting system would help legislators better understand the actual financial needs of agencies.
"This measure takes the necessary first step toward providing lawmakers with meaningful, performance-based information to help them determine the actual needs of appropriated state agencies as opposed to simply funding government at last year's level with a possible across-the-board or selective percentage increase or, more likely, decrease," said Jones.
The bill also has the support of state Labor Commissioner Mark Costello.
"Reform is a continual process. Today Oklahoma has the technology as well as public servants with the integrity who can implement a process of reform such as proposed by Senator Sharp," said Costello. "This proposed reform captures some of the best practices of the private sector and combines them with the necessary checks and balances of public service."
Sharp pointed out that Oklahoma has worked within a balanced budget system since 1941 and will continue to do so under the P.I.B. system.
"This new budget system should guarantee to the public accountability and transparency for every dollar spent by our state agencies as well as let them know exactly what has or has not been accomplished with those funds," said Sharp. "I want to thank Finance Director Doerflinger, Auditor Jones, and Commissioner Costello for their expertise and support on this important issue."
All agency budget and performance reviews are posted on the Senate website here.
Senator Ron Sharp's state web page may be reached by clicking here and his Facebook page may be reached by clicking here.