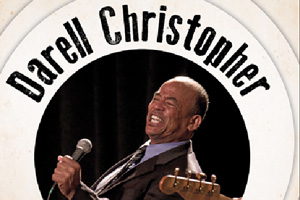 For the third year in a row, the Oklahoma Jazz Hall of Fame presents its annual Dr. Martin Luther King Jr. tribute concert, produced by well-known Tulsa-based vocalist Darell Christopher, and always held on the Sunday nearest Dr. King's January 15th birthdate.
But while Christopher is well on his way to establishing an Oklahoma Jazz Hall of Fame tradition with these shows, his involvement with celebrating Martin Luther King's life and work goes far beyond the past few years, back to a time when the civil-rights leader's birthday wasn't even celebrated in Oklahoma – despite a bill signed in 1986 by then-president Ronald Reagan that created the national holiday.

"I was with Sister Sylvia [Schmidt] at Tulsa Metropolitan Ministry several years ago, when we were trying to convince the city and the state that Martin Luther King was worth remembering," Christopher recalls. "I remember walking across that big bridge on Cincinnati Avenue, which is now M.L.King, with a group of people, black and white, holding hands. It had nothing to do with skin color. We were just celebrating the fact that we were all human beings and that we could do a lot for civil rights.
"At the time, there was a lot of doubt that we could even have a Martin Luther King holiday in Oklahoma. But that's what we were marching for, remembering what a great, great American hero we had in Martin Luther King. I remember we ran up against opposition, but we also ran up against people who really wanted to be a part of something special. We marched all the way down to Boston Avenue Methodist Church. It was a celebration of hope, and this concert is just a continuation of that celebration. That's why it's called Martin Luther King: A Celebration of Hope."
Christopher stresses that the show will be about "bringing the best out of humanity, not the negativity."
"We want to focus on the positive things that are going on," he adds. "You've got to have forgiveness. You've got to have the sense, as Dr. King would say, that two wrongs don't make a right. It's a good-news message."
To help him bring it Sunday, he'll have his band, the Ingredients, on board. "I've got Mark Furnas on guitar, my brother from a different mother and a great guitarist," Christopher says. "Aaron Henderson has been a gospel-music minister for over 40 years, and he's on keyboards. And we've got Spike Gore on drums, who always brings that Southern gospel groove. He grew up in the South, and he's lived it. He always expresses himself through his music, going back to his days with [pianist-vocalist] Pat Moore and, of course, the great [saxophonist and bandleader] Earl Clark.
"Then we've got this young cat who's just amazing. He's going to be the next big thing, and you can quote me on that. His name is Bryan Crenshaw, and he's a senior at Booker T. Washington. I discovered him as an eleventh grader, and I've never had someone so young in my band. But he's one of the most talented bass players I've ever played with, and I've played with people in Europe and all over.
"So," he concludes, "we've got Bryan on bass, Aaron on keyboards, Spike on drums, and Mark on guitar, and I'm just going to be up there quoting Dr. King and bringing some vocals. I think it's a pretty cool program."
And, he says, the fact that it's not only presented by the Oklahoma Jazz Hall of Fame, but also given in the old Frisco train depot, gives the show added emotional resonance.
"The Jazz Hall of Fame is so important when it comes to representing those positive things we try to be a part of, like diversity and multiculturalism and the celebration of our great nation. And that old depot, where they used to have a "For Colored Only" sign up, and when you walked in you'd have to take a left turn – that just ties together where we were, where we are, and where we still need to go."
Martin Luther King: A Celebration of Hope is set to begin at 5:00 p.m. Sunday, January 18, at the Oklahoma Jazz Hall of Fame, located in downtown Tulsa's Jazz Depot, 111 E. First Street. Tickets can be purchased at the Depot, from www.jazzhalltickets.com, or by calling 918-928-JAZZ. General admission is $15, reserved table seating $20.
Seniors and Jazz Hall members are admitted for $10, and high school and junior high students for $5. The show is a part of the Jazz Hall's 2014-5 Winter Concert Series.
The Oklahoma Jazz Hall of Fame is a 501(c)(3) non-profit cultural and educational organization, with a mission to inspire creativity and improve the quality of life for all Oklahomans through the preservation, education, and performance of jazz, our uniquely American art form.