Updated: Contrary to the pontifications of the lame-duck President Obama, there is a real war on women, gays and civilization by Radical Islam. Radical Islam says so, provides photos with video and increasingly, even elected Democrats are making the same point. Radical Islam, not Republicans, is evil and even establishment media are finding these facts hard to ignore.
In this case, Breitbart.com carries video of an interview with Democrat Representative and Iraq War veteran Tulsi Gabbard (D-HI) who argued that the Obama administration "refuses to recognize who our enemy is" on Friday's "Situation Room" on CNN.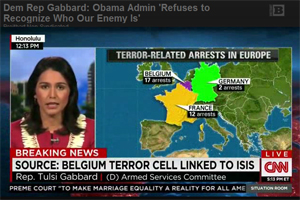 The key quote follows: "It sickens me, Wolf, like so many other people who I served with and service members, who served both in Iraq and in other places, unfortunately we lost friends there who paid that ultimate price, and what is so frustrating now as we look at the situation there, our administration refuses to recognize who our enemy is. And unless and until that happens, then it's impossible to come up with a strategy to defeat that enemy. We have to recognize that this is about Radical Islam…"  Click here for more with the video from Breitbart.com.
This writer appreciates other media with the patience to monitor CNN. (There are enough promoting delusions of intellectual superiority locally that my tolerance for it on air is very low.)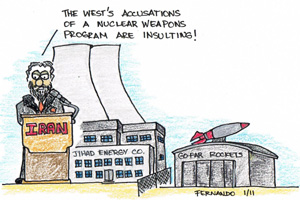 Breitbart.com also covers the fight between Senator Bob Menendez, also a Democrat, and President Obama over Iranian sanctions. Apparently, Obama will throw anyone under a bus to appease America's self-declared enemies.
"Everyone involved seems to be trying to put the best face on it, but Barack Obama went so [offensively] far as to suggest senior Democrats like Sen. Robert Menendez (D-NJ), who take a hard line on Iran, are doing so purely to appease their donors.
"Menendez scoffed at the notion according to other senators in the room. His contention being, it's better to negotiate from a position of strength, as opposed to the weakness Obama seems to like to show America's enemies." Click here for more from Breitbart.com.
America politics and politicians aside, the point is most clearly made by ISIS members who record and tout their executions of homosexuals, women accused of adultery and those of other faith who refuse to convert to the evil side of Islam.
Again, this report comes from the proudly liberal Daily Beast.
"The attacks, which also include the stoning of an adulterer, appear to have taken place in Mosul and were distributed by ISIS social media accounts.
"These are obscene images. They depict two men thrown from the roof of a building as a crowd watches them fall to their deaths, and they purport to show the Islamic State (or ISIS) carrying out public executions before an audience in Iraq's Nineveh province.
"The two victims' alleged crimes? They are believed to be gay. In another photo, woman accused of being an adulterer is stoned to death, and two men charged with thievery are bound to crucifixes."  Click here for more from The Daily Beast.
Here may be the point of President Obama – liars don't learn. They are so caught up in promoting and defending their fraudulent (and in this case ideological) assertions that direct evidence doesn't register.
Radical Islam is the war on women, homosexuals, and modern civilization.  As demonstrated by its followers' own words and action, Radical Islam is a bloodthirsty 7th Century false, if not Satanic, cult that civilized Muslims have a direct obligation to eliminate from within their own ranks.