Movie Review:  In the 21st Century war movies are taking on a different look. No longer are they the flag waving, Support Your Troops, God Bless the USA patriotic tones that most people knew in their youth. They now focus not so much on duty, but how duty affects the individual tasked to carry it out. Such is the case of American Sniper, the latest directorial masterpiece from Clint Eastwood starring Bradley Cooper that is a biopic of the late Navy Seal sniper Chris Kyle.
The film raked in over $100 million in its first weekend, buoyed by pre-release buzz and grabbing six Academy Award nominations, including Best Picture and Best Actor for Cooper's portrayal of Kyle. It is most decidedly a different war movie in the sense that the war is only a supporting part to the movie as opposed to being the main focus.

This is not to say that the war (Iraq) is not a major part of the plot, but Kyle struggles as his duty within the war runs with the hell that is the war on terror in the Middle East even for a protagonist.
Kyle's story is tragedy, but Eastwood tells the tale without making death at the hands of a man with Post-Traumatic Stress Disorder (PTSD) the main focus of the film. He uses Kyle's struggles with PTSD in a careful and respectful way.
The amount of furor this film has raised since its release is proof positive of how war movies are turning away from being propaganda (pro or anti war) and that's ironic considering that the more vocal opinions are trying to disparage the movie as a war propaganda device.
This writer did feel a sense of pride seeing Kyle clear the way in front of his brother soldiers when danger was present, but the film doesn't bring the moviegoer to exuberance.  Eastwood focuses on how each kill Kyle takes affects him, particularly when it involves women or children. Eastwood shows how Kyle's damage extends home to his family and within his heart.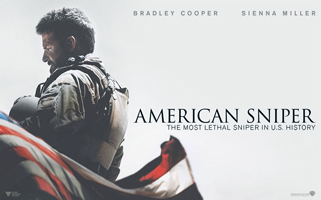 It's not a spoiler to say that Kyle's death is not shown.  It is announced by text when the screen goes black at the end of the film after Kyle goes out to meet a veteran with PTSD who is never identified. It is fairly obvious that the person who gets in Kyle's truck has a problem.
It is a brilliant way to end this unique film that has so much action, so much power and so much poignancy.  As the credits roll, there is no musical accompaniment, only silence to meditate. American Sniper is destined to become a classic and should win awards in this writer's humble opinion.
Those that hate America for whatever reason will hate on this film, but the moviegoer will be doing his or herself a disservice if they don't see American Sniper during it's first run on the big screen.