Justin Sink and Tim Devaney writing for The Hill this morning suggest that Republicans in the Senate will use their first high-profile confirmation hearing to put Eric Holder on trial today.
Wednesday's examination of Loretta Lynch, the federal prosecutor picked by President Obama to replace Holder as attorney general, they suggest, will allow Republicans air long-standing grievances with the Obama administration. Actually, if the committee has read the book "Injustice" by J. Christian Adams, the question is very simple.
Does Lynch believe in race-neutral law enforcement or will she use the Justice Department as a tool to advance minorities and punish the ever shrinking numbers seen as the white majority?  This goes to the core of the Rule by Law and the Obama Administration's specific effort to "transform America."
In Injustice, Adams reveals:
The inside story of how the Obama DOJ spiked the voter intimidation lawsuit against the New Black Panther Party—and the Panthers' little-known public appearance with Obama
How the Obama administration changed DOJ hiring policy to ensure radical leftists would dominate the Civil Rights Division
The Obama DOJ's bizarre agenda, from insisting on kids' rights to attend school dressed as transvestites, to litigating for teachers' rights to take paid vacations to Mecca
How the DOJ has repeatedly sided with political bosses who flagrantly disenfranchise entire communities of white voters
Why the DOJ's fixation on racial grievance threatens the integrity of elections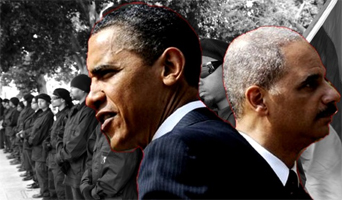 The Hill story reports: [Republicans have] "seen Holder and Obama as skirting the law on hot-button issues such as immigration, counter-terrorism, tax enforcement and drug policies. And the president's frequent use of executive action and regulation has drawn accusations that he's exceeding his authority under the Constitution.
"I think there's an erosion of confidence in the Department of Justice on the fundamental question of whether the attorney general politicizes the office," Sen. Jeff Sessions (R-Ala.) said Tuesday. "We need an attorney general that won't politicize the office."
"But while GOP lawmakers are relishing the opportunity to sink their teeth into Holder's record, they also concede Lynch — barring any misstep — is likely to be confirmed.
"Her reputation as being tough on crime has won praise from both sides of the aisle," The Hill reporters note.