The University of Tulsa's Golden Hurricane Athletics made a historic move in fall 2014, entering the high-profile American Athletic Conference and adopting a strategic plan to guide the department through 2018-19.
Under the leadership of TU President Steadman Upham and Derrick Gragg, TU's vice president and director of athletics, the university has set an ambitious course to focus on eight key areas that will elevate the athletics program and build upon a rich tradition and past successes.
Those areas are:
Program Integrity
Academic Excellence
Athletic Excellence
Student-Athlete Experience
Facility Enhancement
External Engagement
Development & Fundraising
Administrative Excellence & Professional Development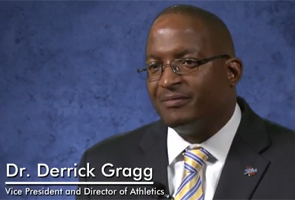 "We want to provide the best opportunity for our student-athletes to grow, develop and prosper academically, athletically and socially. The expectations of student-athletes is key," said Gragg. "We were the premier academic institution in Conference USA, and we intend to be at the top of the American Athletic Conference as well."
Tulsa won three of the first four American Athletic Conference championships in the fall season by capturing titles in men's cross-country, women's cross-country and men's soccer.
"The conference change is driving our new strategic plan. This is the most elite, prestigious conference in TU's history," Gragg said. "The competition is at a higher level. The populations and budgets in the American Athletic Conference are larger. Therefore, we need to make improvements in some key areas to continue our success on the playing field and in the classroom."
Despite being the smallest NCAA Division I institution, TU dominated Conference USA with 56 championships in nine years as a league member. However, the university has not only entered a new conference; it has entered a new era.
By creating a plan for the future of Golden Hurricane Athletics, Gragg and his department are charting a course for innovation and advancement on and off the field.
"The landscape for intercollegiate athletics is changing nationally, and it is crucial TU communicate our mission, our core values and our vision," Gragg said. "We require involvement and commitment from all levels of our program. We will measure our progress and adjust as needed to meet our goals."
Gragg credited TU Professor Jim Senese in the Collins College of Business, an expert in strategy management, with helping to formulate the new plan. Through research, analysis and careful self-examination, TU was able to craft a road map that will elevate the Golden Hurricane within the American Athletic Conference and assist the university in its overall goal to become a Top 50 research institution.