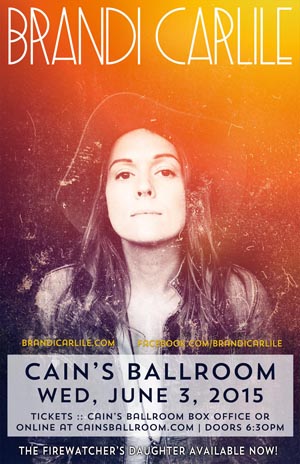 One of the most dynamic voices in the emerging alt-country/folk-rock world, Brandi Carlile, has "the kind of voice most Nashville producers would be happy to work with: roomy, dark-hued and bittersweet, with a firmness of purpose and pitch," according to the New York Times.
Carlile headlines Tulsa's Timeless Honkytonk, Cain's Ballroom June 3rd, but to make it in the door – plan to purchase tickets early – like real early – like this Friday, February 27 as they go on sale.
"[Carlile] favors one of the classic country-singer devices, an accented break between upper and lower ranges. At times she scoops dramatically up to a note, like a slide guitarist. And in the harmonies she strikes with her creative partners, the twins Tim and Phil Hanseroth, there are hints of bluegrass and Grand Ole Opry twang," the NY Times added.
Brandi Carlile's band is comprised of Carlile (vocals and guitar), twin brothers Tim and Phil Hanseroth (electric bass, electric/acoustic guitar) and Josh Neumann (cello, violin, mandolin) and Allison Miller on drums.
Carlile's powerful voice is graced with soul, projection and the ability to transition seamlessly from a low note to a high note within the same lyric. Sometimes live performances lack studio-smoothed singing that we all have grown accustomed to hearing on records. Brandi, in live performances, nails with authority a huge vocal range. Several concert-goers online raved on her amazing voice.
Equally credited in multiple postings and professional reviews are the tight three-part harmonies between Carlile and the Hanseroth twins. Their combined voices in key areas, especially during new song "Hard Way Home," was truly enchanting. Her eight-song set was complete with the widely popular "The Story," which delivered one of the night's more entertaining electric guitar leads.
Darrell Scott on in an Amazon Music Review wrote: "I have not been as moved by a singer since the sixties, and I'm in my sixties. Brandi Carlile has a voice and a soul that could render any song fantastic. When people see this old dude with headphones in the airport or someplace they will probably think I'm listenting to Frank Sinatra or a self improvement mp3. Man, they don't even know. I recommend anything Brandi Carlile has for sale, and you gotta see her live."
Tickets on sale Friday, February 27th at: Cain's Box Office, by phone @ 877-4-FLYTIX or online @ www.cainsballroom.com