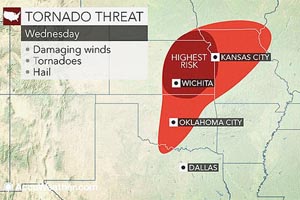 AccuWeather reports the worst severe weather outbreak so far this year will threaten lives and property across the central U.S. and includes a risk of tornadoes on Wednesday and continue on Thursday.
A "potentially volatile" event including much of the Tulsa area is shaping up for the middle of this week, according to AccuWeather.com Meteorologist Becky Elliott.
A round of isolated severe thunderstorms is expected Tuesday evening which will produce destructive tornadoes and numerous thunderstorms with damaging winds, large hail, blinding downpours and frequent lightning during Wednesday and Thursday.
On Wednesday, the greatest risk for severe thunderstorms will extend northward from central Oklahoma to the eastern half of Kansas and the northwestern half of Missouri and includes part of southern Iowa, southeastern Nebraska and north-central Texas.
The most likely time for the most violent storms is between 4:00 p.m. and 10:00 p.m. CDT, on Wednesday.
AccuWeather Enterprise Solutions Meteorologist Alex Avalos stated that all the ingredients will be in place on Wednesday for "supercells capable of [producing] very large hail, damaging winds and even tornadoes across the eastern half of Kansas and into much of central Oklahoma."
The storms on Wednesday could produce a few tornadoes that are on the ground for a considerable amount of time. Tornadoes of this nature can be especially strong and destructive.
"Metropolitan areas such as Wichita and Topeka, Kansas, and Oklahoma City are especially at risk late Wednesday afternoon through Wednesday evening," Avalos continued.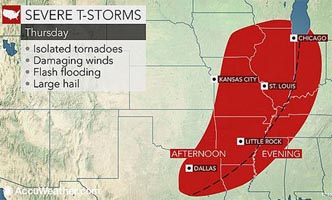 Thursday's threat zone will encompass the corridor from northeastern Texas and northern Louisiana to Iowa and Illinois.
"I think the threat transitions more to a wind damage threat on Thursday, although large hail and a few tornadoes will still be possible," added Avalos.