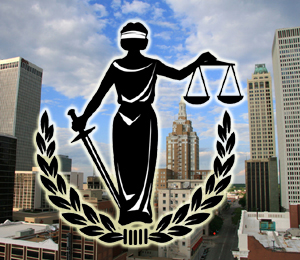 Next Tuesday evening April 21, at the LaFortune Clubhouse Grill 5501 South Yale; Tulsa Today invites you to join us at 7:00 pm to discuss public safety in our community.
Multiple speakers will address the topic from different and unique perspectives. Lively discussion from audience questions are the norm at Let's Talk Tulsa public events.
Tulsa Police Chief Chuck Jordan will begin the discussion. Jordan was appointed as the 39th Chief of the Tulsa Police Department (TPD) by Mayor Dewey Bartlett on November 12, 2010.
Oklahoma State FOP President Ron Bartmier will offer a broad view of enforcement challenges and opportunities statewide.
Jessica Caswell will speak as the granddaughter, daughter and sister of police officers and the daughter of an Assistant District Attorney and former District Judge. Caswell developed the Public Relations campaign, "Back the Blue, We Back You" and will speak of what officers and their families carry on their minds and hearts throughout their career."
The meeting begins at 7 pm and you are invited to dine with us at 6:30 pm. Arrive early for the best seats and please confirm if you will join us for dinner.
This month, Chef Roberto will prepare a grilled chicken salad bar with mixed greens and your choice of toppings: cold peas, cold kidney beans, bacon bits, shredded cheddar, diced ham and a choice of salad dressings including Ranch, Italian, honey mustard or a Raspberry Vinaigrette.
Last month's discussion on multiple topics is available online by clicking here.  Tulsa Live Events recorded the presentations and discussions as a public service viva LiveStream.
The meeting is free and open to the public. Dinner cost $15 per person. Please let us know if you plan to join us for dinner by email to editor@tulsatoday.com.
Hope to see you then.