Multiple news outlets are reporting today that Federal agents are searching an apartment in Phoenix in an investigation into a shooting outside a suburban Dallas venue that was hosting a contest for Prophet Muhammad cartoons.
Police officers shot and killed two gunmen who opened fire on a security officer outside the Curtis Culwell Center in Garland Sunday night. The security officer was wounded in the shooting.
FBI spokesman Perryn Collier told The Associated Press that the Phoenix residence is being searched for indications of what prompted the attack.
ABC News, citing a senior FBI official, reported that one of the gunmen, a resident of the Phoenix apartment, was known to authorities and has been the subject of a terror investigation. That man was convicted five years ago of lying to federal agents about plans to travel to Africa in an apparent attempt to join a terror group there, ABC reported.

John Iannarelli, Assistant Special Agent in Charge FBI's Phoenix office, said authorities in Texas traced both suspects to the Phoenix apartment and that the two appear to have been roommates. The second suspect has not been publicly identified.
Followers of ISIS had been sending messages about the event in Texas for more than a week, calling for attacks. One referenced January's Charlie Hebdo massacre in France and said it was time for "brothers" in the United States to do their part.
Click here for more from ABCNews.
Click here for more from NewsMax.
Make no mistake, the number of attacks and related carnage is only limited by the number of ISIS agents within the United States and more are flooding over the border every day.
The Gateway Pundit reported on Saturday May 2 that ISIS executed 600 Yazidi hostages in Tal Afar.  The report, first released by Aranews via Religion of Peace Friday, said:
On Friday the so-called Sharia Court of the Islamic State group (IS/ISIS) reportedly executed 600 hostages from the Yezidi community of Shingal (Sinjar) in the Talafar district in northern Iraq.
The group piled the bodies into the well of Alo Antar on al-Ayyadiya highway, local sources reported.
Shahin Shingali, a fighter in the ranks of the Peshmerga forces, stated to ARA News that since Friday the IS radicals transferred nearly 700 Yezidi hostages to Talafar.
"Without a direct intervention by the international community, Iraq will be witnessing more genocides against innocent people at the hands of the IS terrorists," Shingali said.
Aseel al-Nujaifi, governor of Nineveh province in Iraq, confirmed on Friday that the ISIS terrorists executed hundreds of Yezidi captives.
"A new crime was committed by Daesh (Islamic State) against our Yezidi people on Friday," al-Nujaifi said in a statement.
TheReligionofPeace.com is a pluralistic, non-partisan site concerned with Islam's true political and religious teachings according to its own texts.  They present the threat that Islam poses to human dignity and freedom, and document the violence that ensues as a direct consequence of this religion's supremacist teachings.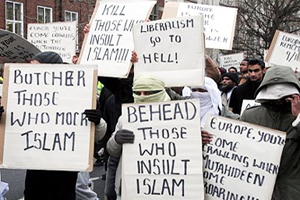 According to the About page, the group is not associated with any organization or promote any religion, but we are not hostile to religion saying, "We generally support the rights of atheists, Christians, Hindus, Jews, homosexuals, woman, Muslims and anyone else on the planet to live as they wish without violating the rights of others.
"We strongly condemn any attempt to harm or harass any Muslim anywhere in the world because of their religion.  Every human being is entitled to be treated as an individual and judged only by his or her own words and deeds.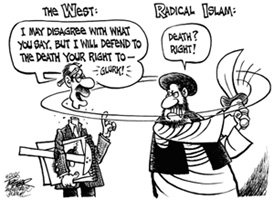 "We also denounce any act of vandalism against mosques or other property, including juvenile attempts to offend Muslims by desecrating copies of the Quran.  (The best way of discrediting the Quran is to tell non-Muslims what it actually says about them).
"At the same time, we see no use in pretending that Islam is just another religion – which always seems to be the assumption of those preferring not to look too closely.
"In fact, Islam is dreadfully unique – and it should be OK to say so," the site declares.
The most recent attacks are noted on the site as: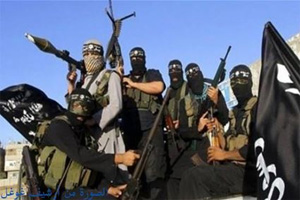 2015.05.04 (Deri Ghazi Khan, Pakistan) – One person is killed when Islamic militants attack a school.
2015.05.02 (Diyala, Iraq) – Five women are among seven passengers torn to shreds by a Mujahid blast on a bus.
2015.05.01 (Baiji, Iraq) – Sixteen Iraqis are blown to bits by a Shahid suicide bomber.
2015.05.01 (Benghazi, Libya) – Three medics are exterminated by a suspected Ansar al-Sharia mortar round.
2015.04.30 (Madain, Iraq) – Three people at a cafe are obliterated in mid-bite by Religion of Peace bombers.
2015.04.30 (Shabwa, Yemen) – The Islamic State releases a video showing the beheading and shooting of fifteen captives.
2015.04.29 (Mosul, Iraq) – Ten oil workers are forced to their knees and shot in the head by the Islamic State.
2015.04.27 (Baghdad, Iraq) – Children are among the casualties when a brutal bomb blast in a shopping district claims ten lives.
* Sources for individual incidents can be provided upon request of www.thereligionofpeace.com.