Tulsa County officials and representatives of the county Sheriff's Office and Mental Health Association Oklahoma gathered on April 20 for the groundbreaking of the Tulsa Jail expansion.
Designed by Dewberry, the 43,000-square-foot expansion includes the addition of a mental health unit containing two pods along the north side of the site and a general population unit containing two pods extending to the northwest. The project is set to begin construction only one year after voters approved the bond.
The mental health unit will add much-needed relief to existing jail operations, with a capacity of up to 98 beds and four levels of security. The addition will also include office and counseling space as well as facilities for video court processing. The façade, constructed of pre-cast concrete panels with metal panel accents, will match the exterior of the current facility.
"Nationally, jails have become the largest facilities for mental health institutions," stated County Commissioner Ron Peters. "We are dedicated to helping those with mental health issues improve."
The general population unit will accommodate up to 160 inmates in two pods and will enable the jail to provide flexibility for future operational programming being considered.
Exterior clerestory windows will allow for significant daylighting opportunities. The additions are designed to be operationally efficient and allow for clear lines of sight and ample sound absorption. The mechanical/electrical systems are adaptable to future technologies and efficiencies.
Opened in 1999, the existing jail was designed to enable future expansion, but with a tight site along Tulsa's IDL and over eight feet of grade change, the project presented issues that Dewberry successfully addressed while minimizing impact to daily operations and allowing for a fast-track completion in the summer of 2016.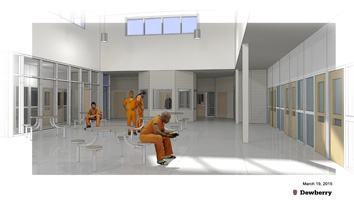 Dewberry's Tulsa office is managing the firm's national design team effort that includes the Atlanta, Dallas and Peoria offices for architectural and interior design; mechanical, electrical, and plumbing engineering; structural engineering; security design; and site/civil engineering.
Throughout the design process, Dewberry worked closely with the Tulsa County Sheriff's Office and Manhattan Construction, the construction manager, to coordinate plans for the phased construction approach.
Dewberry is a leading, market-facing firm with a proven history of providing professional services to a wide variety of public- and private-sector clients. Recognized for combining unsurpassed commitment to client service with deep subject matter expertise, Dewberry is dedicated to solving clients' most complex challenges and transforming their communities. Established in 1956, Dewberry is headquartered in Fairfax, Virginia, with more than 40 locations and 2,000+ professionals nationwide. To learn more, visit www.dewberry.com.