WASHINGTON, DC – U.S. Sen. Jim Inhofe (R-Okla.), chairman of the U.S. Senate Environment and Public Works (EPW) Committee, provided the following opening statement today at the hearing entitled, "Legislative Hearing on S. 1140, The Federal Water Quality Protection Act."
Witnesses include Patrick Parenteau, professor of law, senior counsel environmental and natural resources law clinic at Vermont Law School; Andrew Lemley, government affairs representative for New Belgium Brewing Company; Mark Pifher, manager of Southern Delivery System of Colorado Springs Utilities; Susan Metzger, assistant secretary for the Kansas Department of Agriculture; and Robert Pierce, Wetland Training Institute of Maryland.

As prepared for delivery:
I am very pleased to be an original cosponsor of the Federal Water Quality Protection Act. Let me explain why this bipartisan legislation is so incredibly important.
Last April, EPA and the Corps of Engineers proposed a rule that would significantly expand federal control over land and water by expanding the definition of "waters of the United States" under the Clean Water Act.
Claiming that this definition imposes no costs on state and local governments or small businesses, EPA and the Corps chose to ignore the laws and executive orders that would have required them to develop the proposed rule in partnership with states and after evaluating local government and small business impacts.
Instead, they wrote it behind closed doors. The result was a disaster and the proposed rule was roundly criticized by states, local governments, small businesses, farmers, and many others.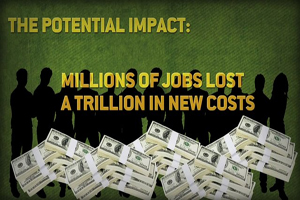 EPA's response to this criticism is very telling. Rather than withdrawing their proposal and starting over with the input of farmers, small businesses, local governments and states, as noted in today's New York Times, EPA went into campaign mode.
EPA claims that they conducted "unprecedented outreach" after they issued their proposed "Waters of the United States" rule. What they actually conducted was an unprecedented grassroots lobbying campaign which may violate federal law. I have already asked the Government Accountability Office to look in to this matter.
EPA held over 400 meetings and calls. However, instead of acknowledging legitimate concerns, EPA's outreach effort was focused on convincing people that EPA knows best. For some audiences, their message was: "The sky is falling. Without this rule, we can't protect your drinking water." For other audiences, particularly farmers, the message was: "Don't worry; the rule will not change anything."
Despite all this outreach, EPA has still not responded to legitimate questions raised by State and local governments and others. In fact, we submitted questions to Administrator McCarthy on February 24 and after three months we still have not received her responses.
At our February 4th hearing on the rule, EPA Administrator McCarthy told Congress they would make changes to address concerns, but she also told us that the substance of the final rule would not be significantly different from the proposal. It is clear that no amount of questions or concerns is going to change their minds and Congress needs to provide some direction.
Our legislation does not allow the rule to forward in its current form. EPA and the Corps of Engineers will have to go back and comply with the laws and Executive Orders that are designed to improve regulations and report to Congress on how they met those obligations.
The legislation does not write the rule for them. It does not address every water body that might be regulated by the federal government or left to state regulation.
But, we do set forth some principles and guidelines for EPA and the Corps to follow when they rewrite the rule.
Importantly, the bill tells EPA and the Corps that they need to focus on water bodies. Not puddles, ditches, groundwater, and overland sheet flow.
They also need to focus on the ability of water pollution to reach navigable water. This means they cannot use the movement of birds, animals and insects, or nature's water cycle to create federal control over land and water. EPA may say that all water is connected, but that does not support federal regulation.
By introducing this bill together, both Republicans and Democrats want to make sure that EPA and the Corps actually listen to states, local governments and other stakeholders, keep their promises, and issue a regulatory definition of "waters of the United States" that recognizes that Congress did not give the federal government control over all water.
I look forward to hearing your thoughts on this legislation.