Updated Editorial Analysis: The final question for the new Chairman of the Oklahoma Republican Party, Randy Brogdon, was introduced and intended as an opportunity for humor after a series of technical questions on party organization and operations at the Tulsa Republican Club luncheon Friday May 15, 2015.
"For humor – When we, at the upcoming Southern Republican Leadership Conference, have an opportunity to meet prominent Republican Leaders should we explain TC Ryan's appearance as channeling Duck Dynasty or ZZ Top?" I asked.
Brogdon exploded in anger beginning, "Only if you want to be bigoted."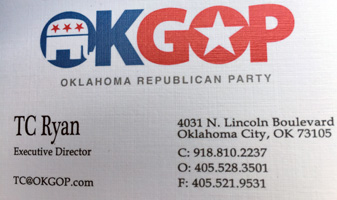 Brogdon continued, "TC does not look like the chubby white fat guy. TC has a beard, he's got a lip ring and he's got tattoos. Guess what has drawn me to TC? His tattoos, his beard and his lip ring (long pause) and the policy knowledge this young man has in his head."
The entire presentation by Brogdon to the group is available on Tulsa Live Events (click here to view) with the clip discussed above separated under the title, "Brogdon stands up for T.C. Ryan" below.

Most significantly, Brogdon asserts without identifying himself as the cause, "We are getting ready to disrupt the entire GOP process right here in Oklahoma."
The point of dispute as Brogdon correctly notes is not about Ryan, it is about Randy Brogdon's judgment or lack thereof in appointing and defending Ryan who in 2012 pled guilty (case #CM-2012-2339) to Assault and Battery – Domestic in the Presence of a Minor Child and Interference with Emergency Telephone Call in Tulsa County. Update: The victim's story is available by clicking here.

While Brogdon supporters at the meeting suggested that I was "digging up dirt" on Ryan, that is not accurate as I told them at the time. This information has been in my political files for years. Ryan has long been active in the local Ron Paul, Libertarian, T-Party, Tulsa 9/12 and Republican groups. He has worked as a paid political consultant in several races and was Brogdon's campaign "volunteer companion" during his failed race for the U.S. Senate. In short, Ryan supports candidates representing the extreme right wing-tip of the Oklahoma Republican Party – about 4 percent of registered Oklahoma Republican voters. Ryan was also elected for one term as the Republican State Committeeman from Tulsa County, but was rejected for service at the last Tulsa County Convention.
Failure at the ballot box does not moderate radical views, but rather inspires some to conspiracy fantasies, party process disruptions and insane rants online by zealots pretending to be pundits.
The controversy has grown to the point that last week Sen. A.J. Griffin, R-Guthrie, said "The Oklahoma Republican Party should take the strongest stand possible against domestic violence and issues concerning violence against women. It is very difficult for the party to have any credibility on this issue when people in positions of power and privilege within its ranks have recently pled guilty in connection to a crime of this nature."
Sen. Griffin, Sen. Kim David, R-Porter and Sen. Stephanie Bice, R-Oklahoma City, said Ryan should not be employed by the party.
"While we certainly believe in redemption and reconciliation, we also believe there are consequences to actions," Sen. Bice said. "For the good of the party we believe Ryan should resign permanently."
Sen. David said, "We believe it's important for the leadership of our party to communicate that we care about this important issue, and that we as a party have compassion for the victims of domestic abuse," she said.
Rep. Lisa Billy, R-Lindsay, said "That's not the face of my party and that's not how I want it represented."
Sen. David Holt, R-Oklahoma City, said, "I have zero tolerance for domestic violence. Everyone deserves forgiveness, but that does not mean they should be placed in a position where they represent others."
Sen. Brian Crain, R-Tulsa issued a statement saying, "As a husband and father of two daughters, I am foundationally and unequivocally opposed and repulsed by domestic violence. With such a position, I cannot support the decision of an organization that would place someone who admits to having committed such vile actions in a position of leadership. I believe that all Oklahomans, and Oklahoma Republicans in specific also disdain domestic violence, as such, the actions of the Oklahoma Republican Party should reflect these shared values, of which domestic violence is not a Republican principle or value."
The OKC based McCarville Report has provided excellent coverage of the Ryan appointment to the point McCarville is now under attack by Brogdon loyalist and extremist blogger David Van Risseghem (DVR). Click here for McCarville's coverage of the attack and search "Ryan" on the site for previous stories.
Republican Party officials in Tulsa County have been largely silent to date on the Ryan dispute for several reasons. Both Ryan and Brogdon are residents here and vote in Tulsa County. The County Party has been controlled by these Angry Bird Extremists for 8 years until they were all rejected at the last County Convention, by several very close votes.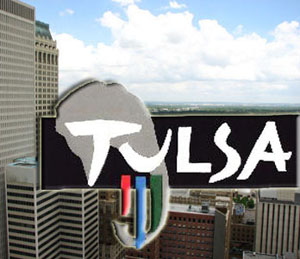 Further and in the spirit of full disclosure; I have long been a Tulsa Republican Precinct Chairman and served on the Platform Committees for both the County and State during the recent cycle. My other  company, HomeFront Strategies LLC, sponsored tables at both conventions as I am also a consultant for select candidates and one of the "old lions" of the Republican Party.
I personally like TC Ryan and his current girlfriend. Prior to his Republican Club presentation, Brogdon first approached me to say he knew he "owed me a call" as I had reached out to him and Ryan several times before Ryan's appointment became controversial to explore ways we could work together. That is now unlikely to happen.
In his answer to my humorous question; Brogdon could have replied by naming any one of several U.S. Presidents that wore beards – Abraham Lincoln or William Howard Taft come to mind. He could have taken the clear instruction and laughed it off in any way, but he "tempered-up" as they say in Poteau.
Brogdon called me a bigot which did not improve our relationship.
There is more to come on this story as Tulsa Today has sources suggesting that Ryan's victim in the domestic violence incident may not remain silent for long and her story is significantly different from the minimizing drivel by which Ryan has dismissed the case since it occurred.
Brogdon supporters are threatening to release every embarrassing legal encounter in every Republican's personal background statewide if critics of Brogdon do not cease their opposition to Ryan – assured mutual destruction Democrats will most gleefully use in future contests. They should consider that going to war with your family or a neighbor is never a good idea as actions typically have equal and opposite reactions.
Chairman Randy Brogdon chose to select the controversial TC Ryan for his top staff position and, apparently, will defend him regardless of consequences which, as Laws of Physics hold, will most certainly come to fruition.
This entire episode is embarrassing for all Oklahoma Republicans as on policy specifics there is less than a fraction of issues in which they disagree. The difference, as this writer has opined previously in "Tulsa County Republican Convention review" is between activists and party builders.
Angry activists must not win the day as Republicans nationwide seek to unite to face the greatest challenge of our generation – saving America from the proven dangers of socialism and cronyism featured by the Democrat Party.
However, if we allow disingenuous demagogues on the right to rule, we will be no better off and it is best to rip that band-aide off quickly.
Therefore this writer at this time calls for the immediate removal of Oklahoma Republican Party Chairman Randy Brogdon as by his own words and actions he has proven unfit to lead.