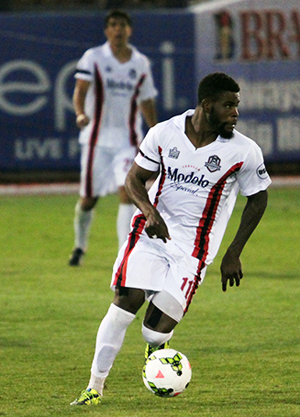 TULSA, OK—The Tulsa Roughnecks FC returned to USL league play on Saturday night taking on the Portland Timbers 2 at ONEOK Field.  The Roughnecks were returning to regular league play after being knocked out of the Lamar Hunt United States Open Cup competition by the Oklahoma City Energy on Wednesday night in the 82nd minute.
The Roughnecks(3-4-2) were in search of their third straight victory on Saturday night, having claimed wins over the Orange County Blues (1-0 on May 13) and the Austin Aztex (1-0 on May 16).  Portland entered the game 3-4-2 in USL league action having fallen twice to Seattle on May 26th and 27th.

Tulsa had control of the game's first half on Saturday night, taking the lead in the 17th minute when Kyle Venter tapping in a crossing pass from Chad Bond to give the home side the lead that they would take into halftime.  Portland tied the game with a Michael Nanchoff blast past Roughnecks goalkeeper Zac Lubin in the 64th minute.
After that, the Roughnecks started to unravel as they took a bad penalty within the 18 yard box and the Timbers were awarded a penalty kick.  They converted on the kick which gave Nanchoff his second mark of the night and the visitors a 2-1 lead.
Tulsa's best chance to get on level terms came in a 60-second flurry in the 85th minute. Substitute Gibson Bardsley fought off a possible foul in the box to fire straight at Gleeson, who made one of his eight saves on the night.
Bad turned into worse as the Timbers Kharlton Belmar managed to slip in behind the Roughnecks defense which was playing forward and kicked in a headman pass by Rundell Winchester two minutes into stoppage time to give Portland an insurance goal and what would eventually become a 3-1 win for the Timbers.
The crowd of 5,775 at ONEOK booed in derision at referee Tyler Mitcham as he and his linesmen left the pitch.  Mitchem had made several controversial calls that were against the Roughnecks down the stretch that may or may not have swung the game toward Portland in the second half.
In addition to the penalty kick goal, Mitcham issued a yellow card to the Roughnecks Lucas Cordiero after he was apparently taken down in the penalty area violently, but Mitcham felt that Cordiero dove or flopped and gave him a yellow card, one of three issued to the home side on Saturday night.
The loss dropped the Roughnecks to 3-5-2 (11 pts.) in USL play, while Portland improved to 4-4-2 (14 pts.).  The Roughnecks will take to the road and head to Seattle where they will take on the Sounders on Friday June 5th.
The next home game for Tulsa will be on Thursday, June 25th against Sacramento Republic FC.