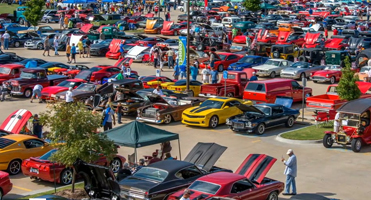 Don't miss the South Tulsa Baptist Church Car Show Sunday, September 20 from 4:00 to 6:30 p.m. It is a free family event and the largest annual car show in the Tulsa area. Just to be clear – we said it is FREE.
Sponsored by the South Tulsa Baptist Church; organizers expect over 600 show cars and 3,000 in attendance. Congressman Jim Bridenstine will officially open the show at 4:00 p.m. followed by a flag salute and the National Anthem. Miss Oklahoma, Georgia Frazier will be signing autographs in the church Commons area.
Frazier is a graduate of Oral Roberts University with a Bachelor's of Arts degree with a major in Organizational Communication and a minor in Humanities. She travels the state as Miss Oklahoma teaching on the legacy of empowerment to to raise Warriors for Women in all schools and equip each student with the tools to live a healthy lifestyle.
Also featured is a Combat Team martial arts demonstration lead by Brian Bryan at 5:00 p.m. on the west side of the building.
Children will enjoy the kid's area with great inflatables. Participate in the OBI Blood Drive from 2:30-6:00 p.m. Give blood and receive your choice of Bedlam t-shirt and be entered into contest to win two tickets to the game. A photo ID is required to give blood.
View the hundreds of show cars and visit with the exhibitors. The food at the Car Show will be fabulous! Grilled hamburgers and hotdogs, chips and desserts will be served.
This year guests can save time by going to the online registration for exhibitors, members and guests at southtulsa.org. Registration tables will also be located at various stations on the property located at 10310 S Sheridan, Tulsa.
STBC_Car Show_2015 from STBC Videos on Vimeo.