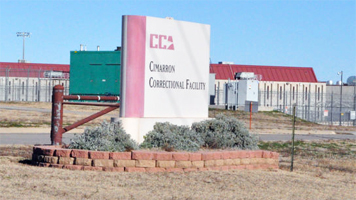 Oklahoma Department of Corrections Director Robert Patton today issued the following statement after meeting with investigators at the Cimarron Correctional Facility in regard to an incident September 12.
Director Patton has toured the facility three times, once on the night of the incident and two additional times and is pleased with the progress of the investigation and the staff's efforts to ensure a safe working environment the release said.
The statewide lock down ended over the weekend, with exception of the Cimarron Facility. Due to the ongoing investigation Cimarron remains on lockdown, with offenders confined mostly to their cells and movement inside the facility restricted.
Although the investigation remains open, the following information is the only official update at this time.
"After meeting with facility staff, Special Operations Response Team members with Corrections Corporation of America, officials with the Inspector General's office as well as department of corrections personnel, we have reached a point in the investigation that we can confirm the disturbance on Sept. 12 was related to a feud between the Universal Aryan Brotherhood and the Irish Mob.
"As of right now we are easing the lock-down at the Cimarron Correctional Facility with the exception of known associates and members of the two gang affiliations.
"Rumors and speculations of disturbances at other facilities across the state on the evening of Sept. 12 being connected to the Cimarron altercation remain under investigation and we hope to have answers to these questions soon.
"I would like to thank the staff and correctional officers at the Cimarron Correctional Facility and at other facilities throughout the state for acting swiftly and courageously during reported altercations. Their actions and response saved many lives and prevented more injuries. I appreciate their continued dedication to protecting the public and serving the state."