Analysis: Presidential candidate and former neurosurgeon Ben Carson shows appropriate national leadership in reacting to news that the gunman who killed nine individuals at an Oregon community college Thursday specifically targeted Christians.
According to witnesses, the shooter lined his victims up and asked each of them to state their faith. If they answered that they were Christian, the gunman fatally shot them. According to one survivor, Christians were shot in the head while those who didn't declare a faith were shot in the legs.
Carson posted a photo Friday to Facebook that shows him holding a sign with a simple, four-word message: "I am a Christian."
The post was widely circulated online, amassing 70,000 shares and more than a half-a-million likes in the hours it had been published. Carson also changed his profile photo to the picture and suggested others do so as a way to "honor the victims and their families."
(h/t: The Blaze – click here for posting)  Tulsa Today has not engaged in the media hype of obvious mental illness demonstrated in Oregon and offer the following additional perspective from USAToday.com and James Alan Fox, the Lipman Professor of Criminology, Law and Public Policy at Northeastern University and a member of the USA TODAY Board of Contributors. Fox is co-author of Extreme Killing: Understanding Serial and Mass Murder. He writes in part:

The Oregon shooting had countless news outlets flooding the airwaves and the Internet with questionable statistics on the incidence of mass shootings along with sidebar listings of the deadliest shooting sprees in U.S. history. In the usual rush to offer up some breaking information, news reports were embellished with unconfirmed details about the massacre and the assailant that did little but fuel a contagion of fear.
They lumped together rather different types of incidents (the hate-inspired church killing in Charleston, the random shooting at a Louisiana movie theater in which two victims were slain, and the targeted killing of two employees of a Virginia television station by a disgruntled former co-worker seeking payback for perceived mistreatment) as if there is a pattern emerging.
Notwithstanding the sadness caused by each of these tragedies, nothing has really changed in term of risk. One can take virtually any period of months or years during the past few decades and find a series of shootings that seemed at the time to signal a new epidemic. The '80s were marked by a flurry of deadly postal shootings, which gave rise to the term "going postal." The '90s witnessed a string of mass shootings in middle and high schools carried out by alienated adolescents with access to borrowed guns, prompting the venerable Dan Rather to declare an epidemic of school violence.
More recently, the "active shooter" has become the new boogeyman armed with a gun. Of course, there were shootings in public places long before this frightening catchphrase was created. Nowadays, any time someone shows up with a gun in a school, a church, a movie theater, a shopping mall or a restaurant, twitter becomes alive with messages of alarm.
I certainly don't mean to minimize the suffering of the Oregon victims and their families, but the shooting spree is not a reflection of more deadly times. Consider the facts.
According to a careful analysis of data on mass shootings (using the widely accepted definition of at least four killed), the Congressional Research Service found that there are, on average, just over 20 incidents annually. More important, the increase in cases, if there was one at all, is negligible. Indeed, the only genuine increase is in hype and hysteria.
Click here for more from USAToday.com.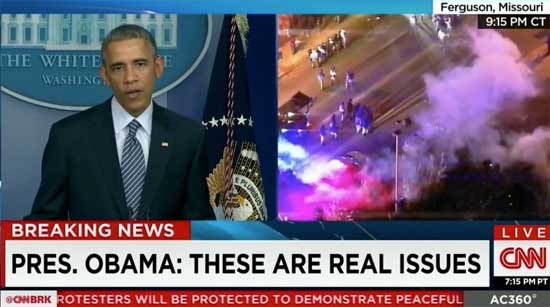 President Obama, the racialist ideologue, does not truly distract the American public from a declining economy or his empowerment of our enemies, betrayal of allies and other impeachable acts. Obama just "presents" and thinking humans worldwide laugh.