The 2015 Tulsa State Fair ran from Thursday, October 1 thru Sunday, October 11. This year, a combination of unbeatable weather and enthusiastic fair guests, resulted in an estimated attendance of 1.2 million.
"Throughout the year, our team plans, builds and prepares for Tulsa's largest family event. There is a lot of pressure that goes into executing an event of its size," stated Mark Andrus, President/CEO. "With over 800 scheduled events taking place during an eleven day span, every detail is discussed and considered with the best interest of our community in mind. I have been a part of over 30 Tulsa State Fairs and this year was the best, so far."

Notable results include a 9% increase in Midway Ride sales, a 41% increase in Sky Ride sales and a 6% increase in ExpoSERVE Concession sales over 2014. For the second year in a row, the Junior Livestock Auction raised over $600,000.00 in scholarship funding for Oklahoma 4-H and FFA youth, selling 167 animals.
The Tulsa State Fair was thrilled to host Disney on Ice presents Frozen. The ice show was a phenomenal success with a 54% increase in ticket sales. While historically, Disney on Ice sales are a strong revenue source for the fair, expectations were exceeded with this year's performance.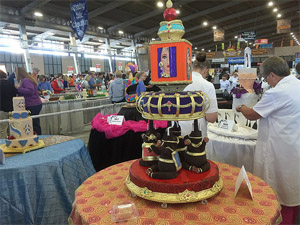 "This year was absolutely Goat-Tastic! I don't know of any other way to describe the 2015 fair," said Amanda Blair, Fair Manager/COO. "The growth and improvements of the Fair continue with the overwhelming support of our patrons. The amount of hard work, as well as team work, produced a positive result focused on blending traditions with the high intensity entertainment our patrons expect."
The 2016 Tulsa State Fair will be held September 29 thru October 9.