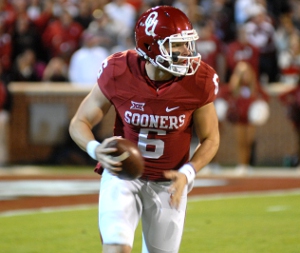 The Iowa State Cyclones blew into Norman full of confidence Saturday night following their shutout of Texas a week earlier. After recceiving the opening kickoff, Cyclones quarterback Joel Lanning marched his team into OU territory, taking the lead on a 43-yard field goal by kicker Cole Netten.  The Cyclones held the lead for 13 seconds.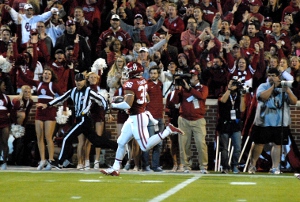 OU offensive coordinator Lincoln Riley reached into his bag of tricks for the Sooners' first play from scrimmage and executed perfectly.  From his own 25, quarterback Baker Mayfield took the snap and handed off to Samaje Perine, who pitched the ball to Sterling Shepard on a reverse.  Shepard then tossed the ball back to Mayfield, who then found fullback Dimitri Flowers wide open near midfield.  After securing the catch, Flowers raced untouched into the endzone to make the score 7-3.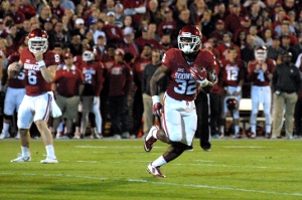 Following Dede Westbrook's 27-yard touchdown catch from Mayfield and a 17-yard scoring run from the OU signal-caller, the opening quarter ended with the Sooners leading 21-3 and the rout appeared to be on.  However, OU failed to put any points on the board in the second quarter, while Netten booted field goals from 45 and 51 yards and the two teams headed into intermission with the score 21-9.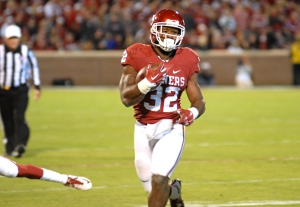 The third quarter was all OU.  Kicker Austin Seibert drilled a 37-yard field goal on the Sooners first possession, followed by a Perine touchdown run of eight yards and Sterling Shepard's 74-yard scoring strike from Mayfield.  The Sooners weren't done, scoring twice in the final frame to put the game out of reach, first with Joe Mixon's 57-yard touchdown run, followed by a 55-yard scoring pass from backup quarterback Trevor Knight to tight end Mark Andrews.  The Cyclones finally found the end zone with just over five minutes to play when D'vario Montgomery hauled in Lanning's 13-yard toss.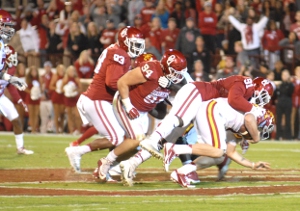 The Sooner defense was stout once again and made life miserable for Lanning, sacking him four times, two by Charles Tapper.  OU harassed Lanning all night and held running back Mike Warren to just 43 yards on 18 carries.  The defense was bolstered by the return of linebackers Jordan Evans and Devante Bond and hope to have starting cornerback Zack Sanchez back for Saturday's date at Baylor.  Dakota Austin has played well in Sanchez's absence and intercepted Lanning in this game.
Following Saturday's game at Baylor, the Sooners close out their home schedule by hosting TCU on November 21 and end the regular season at OSU on the 28th.
Photos and story by Greg Duke, Tulsa Today.