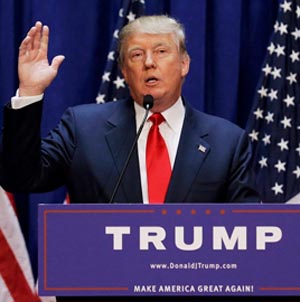 Donald Trump, currently the leading Republican Presidential candidate, appeared on Saturday Night Live in a comedy sketch including a focus on the problem of illegal immigration. Trump's stand on illegal immigration has been criticized by those of both parties and the press, but the problem of criminal or illegal border crossers is no joking matter.
Donald Trump is right about this: illegal immigration is one of the most serious threats to national security, American sovereignty, and economic stability, but even Trump has not yet addressed the even more serious medical dangers of illegal immigration for Americans.
The invisible travelers coming across the border with the people: bacteria like tuberculosis (TB), viruses such as EVD-68 that killed so many US children in 2014, Ebola, West Nile, dengue fever, parasites, and fungal illnesses.
Delays in access to medical services for Americans with longer waits to see doctors, especially for Medicaid patients.
Long waits in Emergency Rooms jammed with illegals waiting for care at US taxpayer expense.
The vastly higher costs for states to cover Medicaid services designed to provide medical care for low-income American citizens, but now expanded to serve those here illegally as well.
Legal immigrants are medically screened. Adequate testing is the cornerstone of protecting our citizens from devastating diseases previously eradicated or unknown in the U.S.
Because of our outstanding public health and medical systems, most Americans do not worry much about infectious diseases. But infectious diseases remain the leading cause of death worldwide, and are in the top ten causes of US deaths.
TB in the U.S. is mostly an "imported" disease brought by people coming from countries where it is widespread, unlike the US. CDC data for 2013 showed that 64 percent of the TB cases and 91 percent of all MDR-TB cases in the U.S. occurred in foreign-born people, whose TB rate is 11 times higher than people born in the U.S.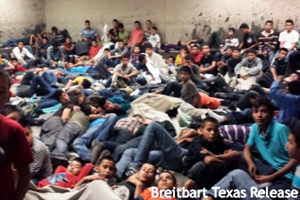 TB is most serious disease threat – both from medical and economic impact.  TB is highly contagious—you catch it anywhere around infected people: schools, malls, buses, etc. Worse, the multidrug-resistant TB (MDR-TB) that is increasing across our borders requires a complex, extremely expensive treatment regimen that has serious side effects and a low cure rate.
The staggering cost impact of MDR TB is shown in the Centers for Disease Control (CDC) data:
TB Treatment Period:  6-9 months, cost $17,000.00
TB Multi-drug Resistant:  20-26 months, cost $134,000.00
TB Extreme Multi-drug Resistant:  32 months, cost $430,000
(Source: CDC website)
Biological agents like viruses and bacteria are not like radiation-based weapons that decay continually once released, or chemical weapons that are degraded in the environment and require threshold concentrations to be deadly.
Disease-causing agents have doubling times, not half lives for decay. Disease agents – bacteria, viruses, fungi –continue to exponentially increase the spread of infection as long as there are people to be exposed.
Elderly, children, immunosuppressed cancer-patients, and patients with chronic lung disease or congestive heart failure will be hardest hit by exposures to difficult-to-treat diseases from other countries. Everyone is at risk, however, especially from MDR-TB. Based on CDC cost data, a large-scale outbreak of MDR-TB in the US could lead to a public health crisis plus loss of employee productivity that could cost billions of dollars. Our medical systems are already hard-pressed to serve American citizens, and are likely to be overwhelmed by the surge in illegals.
The tsunami of illegals has not caught the government unaware. Shelley Kais, candidate for Arizona Senate, said: "What most Americans don't yet understand is that the arrival of tens of thousands of Central Americans along the Southwest border is no surprise: not to the president, not to the federal government's Office of Refugee Resettlement (ORR), not to the many other federal agencies whose budgets have increased in recent years in preparation for it, and not to Congress, which approves those budgets. I reached this conclusion following a thorough analysis of budgets for the Department of Health and Human Services and discovered compelling evidence that our president, executive agencies—even Congress—knew about and planned for the illegal immigrants now flooding our border."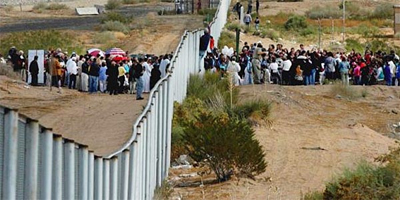 Illegals still impact Arizona and Texas first, but they are rapidly being dispersed across the country into your state, at taxpayer expense. There is almost no tracking of who is going where, or what diseases they may be carrying, or how communities will have resources to identify and pay for treatment of these diseases.
Trump is right. If we add the medical threats to the economic and national security threats he has raised, we see a "perfect storm" being created that can collapse the medical system with new demands that cannot be met and will jeopardize medical care for millions of Americans.
Illegal immigration is not a victimless crime. All taxpayers—and all patients—are its victims. Diseases don't stop at borders. Diseases don't discriminate based on political affiliation.
Stop the jokes about Donald Trump. He is spot on correct in identifying the dangers to Americans from illegal immigration.
_____________
About the Author: Elizabeth Lee Vliet, M.D., Dr. Vliet is Chief Medical Officer of Med Expert Chile, SpA, an international medical consulting company based in Santiago, Chile whose mission is high quality, lower cost medical care focused on preserving medical freedom, privacy, and the Oath of Hippocrates commitment to individual patients. Dr. Vliet is a past Director of the Association of American Physicians and Surgeons (AAPS). Dr. Vliet also has an active US medical practice in Tucson AZ and Dallas TX specializing in preventive and climacteric medicine with an integrated approach to evaluation and treatment of women and men with complex medical and hormonal problems.   Dr. Vliet received a NECO 2014 Ellis Island Medal of Honor and the Arizona Foundation for Women 2007 Voice of Women award for her pioneering medical and educational advocacy for overlooked hormone connections in women's health. She received her M.D. degree and internship in Internal Medicine at Eastern Virginia Medical School, and completed specialty training at Johns Hopkins Hospital.  She earned her B.S. and Master's degrees from the College of William and Mary in Virginia. Dr. Vliet has appeared on FOX NEWS, Cavuto, Stuart Varney Show, Fox and Friends, Sean Hannity and many nationally syndicated radio shows across the country as well as numerous Healthcare Town Halls addressing the economic and medical impact of the 2010 healthcare law.  Dr. Vliet is a past co-host of America's Fabric radio show. Dr. Vliet's health books include: It's My Ovaries, Stupid; Screaming To Be Heard: Hormonal Connections Women Suspect– And Doctors STILL  Ignore; Women, Weight and Hormones; The Savvy Woman's Guide to Great Sex, Strength, and Stamina, and The Savvy Woman's Guide to PCOS. Dr. Vliet's websites are www.HerPlace.com, and www.MedExpertChile.com.