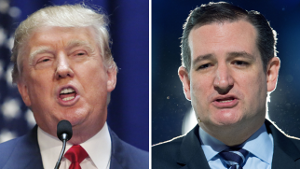 The Hill is reporting that Donald Trump has company on the Iowa GOP presidential podium, as Sen. Ted Cruz has moved within the margin of error at the top of a new Quinnipiac University poll released Tuesday.
The real estate magnate wins one-quarter of likely Republican caucus-goers, compared to the Texas senator's 23 percent. Ben Carson, the former neurosurgeon who edged Trump out for the lead in last month's Quinnipiac poll, sits in third with 18 percent while Sen. Marco Rubio rounds out the upper-tiers of candidates with 13 percent.
Rubio's support holds steady from Quinnipiac's October poll, while Cruz's has more than doubled from 10 percent in October.
No other candidate topped 5 percent in Tuesday's results.
"Last month, we said it was Dr. Ben Carson's turn in the spotlight. Today, the spotlight turns to Sen. Ted Cruz of Texas.  The Iowa Republican Caucus has become a two-tiered contest," Peter A. Brown, the assistant director of the Quinnipiac University Poll, said in a statement along with the poll's release.