Navy amassed 469 rushing yards en route to a 44-14 victory Saturday night in front of 22,749 fans at H.A. Chapman Stadium. The Midshipmen took advantage of good field position early in the game to take a 21-0 lead with just under 20 minutes gone off the clock, and then scored 21 second-half points.
Navy improved to 9-1 overall and 7-0 in the American Athletic Conference, and took sole possession of first place in the West Division with Houston's loss to UConn earlier in the day. The Hurricane fell to 5-6 overall and 2-5 in league play.
TU Head Coach Montgomery said, "You know, hats off to Navy. They are a very talented football team, very difficult to prepare for in a three-day span right there. I thought our defense especially early played extremely well. It's just hard to keep them contained.
"They have got some talented kids that are running that thing. You know, Reynolds is as good as advertised. Swain is a plugger right there in the middle that you have got to account for and being able to get out there on the edges and trying to outflank you. Again my hat is off to them. They played a great game.
"We're focused on Tulane now. Got to go down there and get us a big win. It's kind of playoff season now," Montgomery added.
Tulsa gained 356 total yards, while Dane Evans completed 32-of-37 passes for 278 yards. Zack Langer rushed for 69 yards and two touchdowns. Navy's Keenan Reynolds rushed for a team-high 81 yards to lead 12 players, who had at least one rushing attempt, and passed for another 55 yards on just two pass completions.
Leading 23-7 at halftime, Navy opened the second half with a Dishan Romine 90-yard kickoff return to the Hurricane eight-yard line, where the Midshipmen scored two plays later on a Demond Brown four-yard touchdown run, giving Navy a 30-7 lead.
The Hurricane responded in taking 2:54 off the clock with a 68-yard, nine-play drive that cut the Navy lead to 16 points, 30-14, with 11:04 left in the third quarter. Zack Langer scored his second touchdown of the game with a four-yard run. Navy responded on its next possession to take a 37-14 lead when Quentin Ezell ran the final three yards of an 80-yard, eight-play drive.
The Midshipmen took their third straight second-half possession 76 yards in seven plays to take a 44-14 lead with just :08 off the fourth quarter clock.
D'Angelo Brewer's 14-yard run with 2:55 left in the game put the score at 44-21, as Tulsa marched 88 yards in 11 plays.
In the first half, Tulsa gave the Midshipmen a short field on two first-half scoring drives on a 25-yard punt and a failed fourth down, giving Navy the ball at their own 39-yard line on their second and third touchdown drives.
After the Tulsa defense had one takeaway and stopped the Midshipmen on their second possession, Navy's Toneo Gulley broke a 70-yard run to give Navy a 7-0 lead with 6:28 remaining in the first quarter.
Following a 25-yard punt that went out-of-bounds at the Tulsa 39-yard line, Reynolds threw only his fifth touchdown of the season, covering 39 yards to Jamir Tillman, to give the Mids a 14-0 lead at the 10:29 mark of the first half.
Navy went up 21-0 at the 6:09 mark of the second quarter after Tulsa failed to get a first down on 4th-and-3 from their own 39-yard line. Keenan Reynolds extended his FBS record with his 82nd career rushing touchdown, going in from one yard out to cap the 39-yard drive.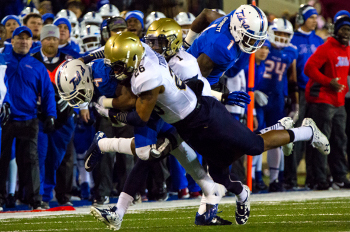 Tulsa scored its first points of the game on a one-yard Zack Langer run with 2:16 left in the first half, capping a 60-yard, 10-play drive, that cut the Navy lead to 21-7.
At half, Navy outgained the Hurricane 292 to 121 yards, as 253 of those yards came on the ground for the Midshipmen.
Tulsa Senior Running Back Zack Langer said, "They are a great team and played really well, but we also hurt ourselves a lot. I mean we knew what they were going to run. We saw the looks and were going against them every day in practice. We just have to execute better and quit shooting ourselves in the foot. We can't have penalties, can't have fumbles, we just have to get the tough yardage and do what we've been practicing all week."
Tulsa closes out the regular season next Friday with a 7:00 p.m. (CT) game in New Orleans, Louisiana, against the Tulane Green Wave. Langer said, "We just have to really go into practice this week and focus on getting all the little things right, getting all the details right, and playing our football. If we play football the way that we are supposed to play, we're a pretty good team, so we just have to go out and do that."
Scoring Summary
Team    Qtr    Time    Play    Score
Navy    1    6:28    Toneo Gulley 70 run (Grebe kick)    0-7
Navy    2    10:29    Jamir Tillman 39 pass from Kenan Reynolds (Grebe kick)    0-14
Navy    2    6:09    Keenan Reynolds 1 run (Grebe kick)    0-21
Tulsa    2    2:16    Langer 1 run (Jones kick)    7-21
Navy    2    0:04    Team Safety    7-23
Navy    3    14:05    Demond Brtown 4 run (Grebe kick)    7-30
Tulsa    3    11:04    Zack Langer 4 run (Jones kick)    14-30
Navy    3    7:03    Quentin Ezell 3 run (Grebe kick)    14-37
Navy     4    14:52    Brandon Colon 23 run (Grebe kick)    14-44
Tulsa    4    2:55    D'Angelo Brewer 14 run (Jones kick)    21-44
Photos by Les Stockton, Tulsa Today.