Analysis:  The Hill is reporting that the FBI Director, James Comey, is the pivotal figure in the 2016 presidential race that no one is talking about. Comey, a Republican appointed by President Obama who enjoys a stellar reputation on both sides of the aisle, is investigating Hillary Clinton's use of a private email server as Secretary of State.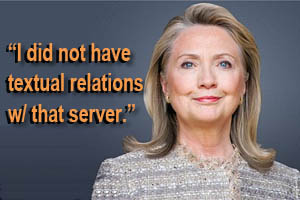 The Hill writes that Clinton is the overwhelming favorite to win the Democratic presidential nomination next year and is expected to be a tough candidate for any Republican to face in 2016. Yet the controversy surrounding her private email account remains an Achilles' heel.
Tulsa Today suggests that Clinton, like Nelson Mandela, could serve decades in prison before election as President.
The GOP-created House Benghazi Committee flopped, according to The Hill, in October when Clinton testified. They wrote, "That hearing failed to produce anything newsworthy about her use of a private server and attracted criticism from liberals and conservatives alike" which is only true for brain-dead reporters.
In fact, it came out that Hillary Clinton as Secretary of State knew the attacks in Libya on 9/11 were committed by terrorists (told her daughter so by email) while she lied straight faced to the families of the fallen over the coffins of their beloved, then lied to the nation and the world. The truth is not in Hillary Clinton.
The Hill asserts: this failure makes it clear that the FBI will have the final say on whether Clinton did anything wrong or illegal. And whatever the verdict is, both parties will have to accept it because Comey is, in many ways, untouchable, they declare.
The 54-year-old FBI chief, confirmed by the Senate to a 10-year term in a 93-1 vote this summer, is known for his independence and aggressive prosecutions.
The grandson of a police officer in Yonkers, N.Y., he has repeatedly stressed his nonpartisan approach. When he served in former President George W. Bush's Justice Department, Comey made headlines by rushing to a Washington hospital to prevent White House counsel Alberto Gonzales from getting a bedridden Attorney General John Ashcroft to sign off on reauthorizing a domestic surveillance program.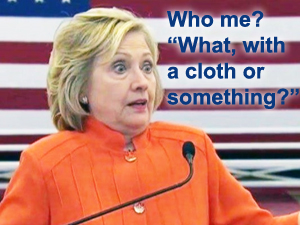 It's the moment that made Comey's reputation and underlines why Republicans and Democrats expect he'll call the Clinton email investigation as he sees it, no matter the political stakes. "My folks don't give a rip about politics," the 6-foot-8-inch Comey said earlier this year. "We're competent, we're independent and we're honest."
Now if the FBI would only become actionable – Rule of Law in America may survive. In the meantime, take pride that Hillary Clinton is the first candidate for president in history to campaign while under investigation by the FBI.