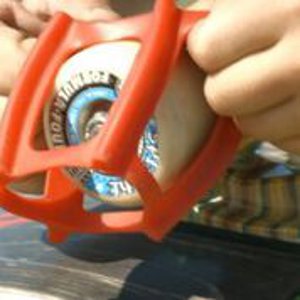 The Tulsa based company SkaterTrainer, recently announced the availability of SkaterTrainers 2.0, a new and improved way to help skateboarders of all ages learn new tricks faster than ever. Its patented design featuring rubberized wheel covers make skateboarding tricks more approachable to learn and easier to master.
SkaterTrainers stretch around all four skateboard wheels to stop the board from rolling while beginners learn balance and practice for skateboard tricks such as backfoot flip, ollie, kickflip, shovit, hardflip, triple kickflip, casper flip, and more. With the board stabilized, skaters can learn balance and focus on committing to the steps of the trick. Once a skater can land the trick with SkaterTrainers, they can pull them off to complete the trick without them.
"SkaterTrainers give a beginner more control over their board while they learn balance and achieve muscle memory like popping and jumping in the air." Said SkaterTrainer Founder and CEO, Roger Hanson. "Anyone who has tried skateboarding knows how frustrating the learning process can be while establishing balance and attempting new tricks. SkaterTrainers not only helps to learn skateboarding faster, but instills a great deal of confidence."
An aerospace engineer by trade, Hanson created SkaterTrainers in 2013 when he attempted to relearn skateboarding tricks after a 25 year hiatus. Frustrated by his slow progress, he designed and developed the first generation of SkaterTrainers which were well received by skaters all around the world. Hanson incorporated feedback from SkaterTrainer fans to redesign a lighter and smaller design in the SkaterTrainers 2.0. View customer reviews by clicking here.
SkaterTrainers are now available on Indiegogo, www.igg.me/at/skatertrainers. Starting at an early bird price of $20 (MSRP $30) and are the perfect gift for holiday delivery. Complete skateboarding packages and wholesale prices are also available.