From the heart of San Diego comes a bright idea that makes the roads a safer place for cyclists, skaters and rollerbladers. Noor America, an electrical apparel startup, has developed the world's brightest cycling jacket to be functional and designed to be fashionable.
Over two years the team has been working to create better connections and housing systems for the LEDs to protect them from physical shock and the elements. Their work has created a new era of biking gear where visibility is essential. Today, Noor America announces the Kickstarter release for the World's Brightest Cycling Jacket.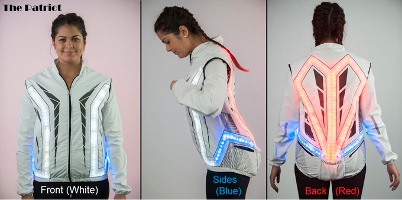 The jacket is made with 250 LEDs embedded inside the waterproof fabric and is designed to keep riders visible, clean, dry and most importantly, safe as they carry out their outdoor activities.
The Jacket features:
Turn signals on back, front and sides
12 hour battery life (or charge your phone up to 5 times)
Easily detachable hood and sleeves
6 Pockets including quick access water bottle pocket
360° Reflective material
Waterproof fabric
Machine Washable
Brightness and flashing variations
The Noor Kickstarter project starts today (1/19) and will run for 30 days (2/18).  There are limited early bird quantities which are placed at a lower price and delivered sooner.  Help Noor get started and reach their goal to bring cycling awareness to light.
Click here for the Kickstarter page. https://www.kickstarter.com/projects/304803547/the-worlds-brightest-cycling-jacket-by-noor-americ