TULSA, OK—After a two-and-a-half week road trip the Tulsa Oilers (19-14-4) returned home on Tuesday  to the familiar and friendly confines of the BOK Center to take on the Allen Americans (24-15-3).
Speaking of familiar, the teams will become very familiar indeed because in addition to Tuesday night's contest the two teams will play each other three more times in the next week.
The Oilers were hot on the heels of a 6-3 win over the division leading Missouri Mavericks last Saturday and have arguably been playing some of their best hockey all season.  Allen came to Tulsa fresh off three straight wins over Wichita.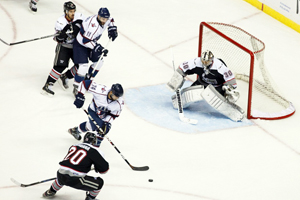 For Tulsa, the best production in terms of scoring has come from the combined line of Dan DeSalvo, Emerson Clark, and Phil Brewer.  Between them they can account for15 points between them in the last five games, and DeSalvo and Brewer each added a point to that total on the power play with the game winner in the second period.
DeSalvo sent in a wrist shot from the top of the circles to give the home team a 2-0 lead.  One assist went to Brewer and defenseman Dennis Brown got the other, his 18th of the season.
Tulsa jumped into an early lead just under ten minutes into the opening period when Ben Walker stuffed the puck under Rumpel while he was down in his crease.
Overall the Oilers moved the puck well and shot seeming at will against a sluggish and uncharacteristically out of sync Allen team, who didn't seem to find their legs until the third period, and by that time it was too late.  It all boiled down to taking the game down to its bare bones according to Tulsa head coach Jason Christie.
"Our guys were simplifying their game tonight," Christie said, "You can't let (Chad) Costello and (Jonathan) Parker and (Casey) Pierro-Zapotel off the hook.  That's a good team over there and you have to be ready to play against them every night."
The Oilers shot on Joel Rumpel 43 times on Tuesday night, just two shots away from the season high of 45 that they shot against Wichita on January 9th.  Tulsa goaltender Kevin Carr turned in a flawless performance, stopping 25 shots enroute to his third shutout this season while Rumpel stopped 41 of 43 in the Americans net.
From here the teams will travel on Friday to the Allen Events Center for the second game of the four game series, and then it's back to Tulsa for the third game on Saturday night.  the four game series concludes on Sunday in Texas.