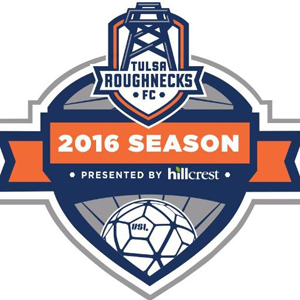 John Fogerty used a reference to the new grass on the field in springtime describing the traditional national pastime and, since the Tulsa Roughnecks FC coincidentally plays their home games at ONEOK Field, the same could be said of soccer.
But in that case we're talking about the INTERNATIONAL pastime now growing in Tulsa from the leadership and success of the Tulsa Roughnecks.
After a season where the Roughnecks missed the USL playoffs by just a few points, Roughnecks head coach David Irving is ready and raring to go for his second season as the teams' head coach.  In the preseason the Roughnecks were an even 4-4 in their friendly matches leading up to this Saturday night when they host the Rio Grande Toros a.k.a. Houston Dynamo 2 on their home pitch.
The team this season, or "side" as it is referred to in the soccer vernacular, is much different this season.
Sammy Ochoa, Jake Feener, Brady Ballew and Cristian Mata are some of the familiar names that the Roughnecks fans will see on the pitch for the TRFC, but there will be a decidedly international bent to the Roughnecks lineup.  Players from all over the world are coming to Tulsa to play for Irving stretching from one side of the planet to the other.
Players like Australian midfielder Adriano Pellegrino, who has played in Thailand and his native country will join the squad as well as English striker Taylor Morgan who played for Toronto FC of Major League Soccer (MLS).  His resume also includes stops in the English leagues with Southhampton and Queens Park, and he has made stops in Sweden and Scotland as well.
Veteran Feener will return as the Roughnecks goalkeeper and he will be joined by Alex Mangels, a native of Lafayette, California who starred in the NCAA Soccer Tournament with University of California-Berkley, leading the Golden Bears to two consecutive tournament berths.
Possibly the best situation of all is that Irving has had a full recruiting off season to bring in top talent.  The team had a preseason friendly schedule that took them to Florida, Dallas and to pitches right here in Oklahoma where he could observe and sign players.
All in all it looks to be a possible breakout season for the TRFC.
The Roughnecks will kick off the regular season at 7pm on Saturday night at ONEOK Field.  The first 1,500 fans through the gates will receive a free 2016 season t-shirt.  In addition, the Roughnecks can be heard on 1300 AM all season long.