Barry Manilow took to the BOK Center stage Friday night as part of his "One Last Time" tour and if this really was his final appearance in Tulsa, he certainly gave all his "Fanilows" their money's worth.
In a career that has spanned five decades, beginning as a commercial jingle writer, Manilow transported his audience through a career of hits including both well-known and the lesser known songs. He even performed a "duet" with Judy Garland on Zing! Went the Strings of my Heart.
A black and white video of Garland singing was projected onto the large screen behind the stage and it gave Manilow the opportunity to plug his recently released Grammy-nominated album "My Dream Duets."  He joked that it could have been called "My Dead Duets," as it includes songs with John Denver, Mama Cass and Whitney Houston.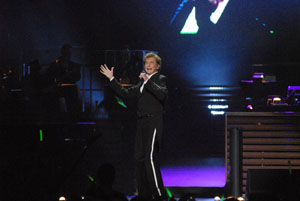 Another video was used creatively, this time from his 1975 appearance on "The Midnight Special," showing a very young Manilow performing his breakout hit, "Mandy" which then gave way to Manilow performing the rest of the song live.  That led him to quip that he was the Justin Bieber of the '70's.
As he moved effortlessly around the stage with the energy of someone much younger, it was easy to forget he is now 72 years of age.  Manilow has had nearly 50 years to hone his skills as an entertainer and it showed.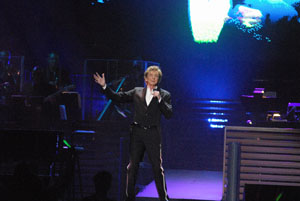 The last half of his show was a mega-medley of no less than a dozen songs from his impressive musical catalog, culminating in "I Write the Songs."
Sharing how music had influenced him during his formative years, he asked everyone in attendance to donate any unwanted musical instruments to be used in school music and arts programs which have been hit hard by cutbacks in recent years.  As part of his Manilow Music Project, he put his words into action by announcing he has donated a piano locally.
Manilow says even though he is retiring from touring, he'll never retire from music.  If this is indeed his last tour performing live, fans haven't heard the last of him as he is currently working on yet another album, hoping to release it sometime in 2017.  For more visit his online site by clicking here.
Photos: Greg Duke, Tulsa Today.