Our own Carrie Underwood returned to Tulsa recently, entertaining a packed BOK Center as part of her "Storyteller: Stories in the Round Tour." Her elaborate stage had to be seen to be believed. Running near the length of the arena floor with walkways that extended on both sides, fans seated surrounding the stage had the opportunity to see the seven-time Grammy winner campfire close – storytelling close.
Underwood used every opportunity of that stage with its complex system of wires, pulleys, lifts and risers and it seemed the scene was constantly evolving.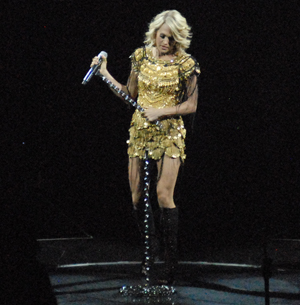 Rising from the center of the arena, the former American Idol champion opened her set with "Renegade Runaway" from her latest album, taking the audience through a musical journey with selections from all five of her studio offerings.  "Jesus Take the Wheel," from her 2005 debut album is still a crowd favorite evidenced by the audience singing loud and proud with the Checotah native.
"I can't stop smiling," the star gushed, "and I have been looking forward to this show for a long time."  Underwood's show provided pyrotechnics, smoke to highlight the stories and of course, numerous costume changes.  In addition her own mega-hits, she performed a cover of The Nitty Gritty Dirt Band's "Fishin' in the Dark" backed by the show's opening acts The Swon Brothers, from Muskogee and Easton Corbin.
Paying tribute to country music legend Dolly Parton, Underwood served up a heartfelt rendition of "I Will Always Love You."  She also displayed her harmonica playing skills during "Choctaw County Affair." The most touching moment of the evening was when the arenas large video screens allowed hubby Mike Fisher and one-year-old son Isaiah to join her as she performed the poignant "What I Never Knew I Always Wanted."
In the deacade since winning American Idol, Carrie Underwood has become a polished entertainer to complement her strong and powerful vocals. She may not be in Checotah anymore but one thing is clear. She will always have a place to play in Tulsa.