Solar Impulse 2 (Si2) landed in Tulsa International Airport, Oklahoma, with Bertrand Piccard at the controls, May 12 at 11:15 pm local time (UTC-5) after taking off from Phoenix Goodyear Airport, Arizona, the same morning at 3:05 am local time (UTC-7).
The flight took 18 hours 10 minutes.
Solar Impulse 2 covered 975.55 miles (1'570 km) at a maximum altitude of 22,000 feet (6'706 m) and average speed of 53.68 mph (86.40 km/h), is part of the attempt to achieve the first ever Round-The-World Solar Flight, the goal of which is to demonstrate how modern clean technologies can achieve the impossible.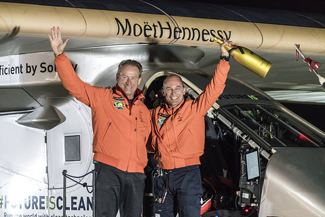 As soon as possible, weather permitting, André Borschberg will pilot Si2 to the next stop-over and continue the crossing of the United States.
Solar Impulse started off with Betrand Piccard's vision of building an airplane capable of flying night and day without using any fuel, propelled solely  by solar energy. The aim of the project was to develop a symbol which would attractively promote a pioneering and innovative spirit, particularly in the field of  renewable energy and clean technologies.
Solar Impulse's goal is to demonstrate that clean technologies, such as the ones used on the Solar Impulse airplane, have the potential to change lives, societies and future markets in an unprecedented way. Solutions exist to run the world on clean technologies.
"If an airplane can fly day and night without fuel, everybody could use these same technologies on the ground to halve our world's energy consumption, save natural resources and improve our quality of life. Our  hope  is  to  motivate everyone  to  reduce  their  dependence  on  fossil  fuels  in  their  daily  lives  and  encourage  concrete  actions  for sustainability," Bertrand Piccard.
For more information, photos and to follow the flight, click here.