WASHINGTON, D.C. – U.S. Sen. Ted Cruz (R-Texas) today issued the following statement, memorializing Kate Steinle on the first anniversary of her untimely death in San Francisco at the hands of an illegal alien who had several felony convictions and had been deported from the United States five times:
"One year ago, Kate Steinle was spending time with her father on San Francisco's Pier 14. What happened next was something that never should have occurred. Kate's time with her family and, ultimately, her life were brought to an abrupt end," Sen. Cruz said.
"On July 1, 2015, Juan Francisco Lopez-Sanchez, a man who entered our country illegally five times and racked up multiple felonies, brutally killed Kate Steinle. And sadly now, an entire year later, the problem that prompted Kate's tragic, untimely death still exists.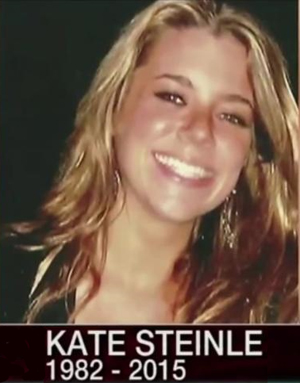 "Sanctuary cities [like Tulsa, OK] and the criminal aliens they harbor are a threat to the safety of the American people. And yet, San Francisco and jurisdictions around the country still shelter illegal aliens, actively thwarting enforcement of our nation's immigration laws.
"Let me be clear, defiance of our immigration laws is inexcusable. On Wednesday of next week, the Senate is scheduled to vote on 'Kate's Law,' legislation I authored and named in honor of Kate Steinle. This legislation would deter dangerous illegal aliens from reentering the country after being deported by imposing a five-year minimum sentence for certain illegal reentry offenses.
"Next week, Congress has an opportunity to take a stand for the American people, but today, we remember Kate.
"My thoughts and prayers go out to the Steinle family."