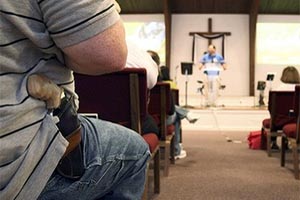 Monday August 29, the Oklahoma Church Security Association will host a church security seminar on the Tulsa Campus of Oklahoma Wesleyan University located at 10810 E 45th St.  Sessions begin at 9:00 AM and conclude at 5:00 PM.  There is no charge for attendance. An offering will be taken to offset expenses.  Enrollment is limited to 50.
Prior registration is required.  This seminar is certified for 7 hours of continuing education credit for law enforcement and security personnel.
Bill Kumpe will present sessions covering Basic Church Security Concepts and Legal Aspects of Church Security.  Kumpe is an attorney and armed private investigator.  He is a former President of the Christian Legal Society of Tulsa and author of Deadly Minutes Versus Precious Seconds, A Primer On Armed Church Security.
Mark Neely will present sessions titled Choosing and Training An Armed Church Security Team and Introduction to Small Team Tactical Response.  Neely is the pastor of Calvary Chapel in Tulsa.  He is a 26 year veteran of the Oakland California Police Department where he was a SWAT team leader.   Neely is also a Chaplain with the Tulsa Police Department.
Tom Schulze will present a session titled Introduction to Unarmed Church Security Tactics.  Schulze is the pastor of Calvary Freewill Baptist Church in Claremore.  He holds a black belt in martial arts and is a veteran of the U.S. Army where he served as a paratrooper.
Corporal Kevin Warne of the Tulsa Police Department will present a session titled Introduction to Organized Street Gangs.  Corporal Warne serves with the Tulsa Police Department's Organized Gang Unit.
"Current events have made it necessary for all churches to address security issues" Kumpe said.  "The 21st century church faces threats from an amazing number of sources, everything from garden variety street crime to highly organized international terrorism.  While a response to these threats is essential it has to be done correctly because private security of any type and especially church security is also a legal minefield." 
"This is a unique opportunity," Kumpe continued.  "This seminar allows the participants to spend time with a Christian attorney, a former SWAT team leader, a black belt in martial arts and an expert in street gangs.
"Many seminars of this type promise to give you "everything you need to know" to make your church secure in just a few hours," Kumpe said. "We don't make those kinds of promises.  Every church and every situation is different.  The only thing we promise is that at the end of this seminar, the participants should know enough to start asking the right questions and begin identifying the right people to answer them."
The Oklahoma Church Security Association is an unincorporated association of pastors and other Christian professionals with relevant expertise who teach and provide consulting services on church security issues.
For further information or registration contact Bill Kumpe by email at okbizlaw@cox.net or by phone at 918-381-9792.