Hypothetical scenario: you have an Oklahoma-sized storage unit. What countries could you store inside? If Oklahoma were a country it would be the 88th largest by area.
Many of these will surprise you and, for fun, the editors of Tulsa Today have added a few other facts Oklahomans frequently forget to mention here in fly-over country.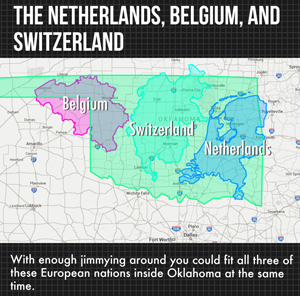 Utilizing thetruesize.com, a mapping tool which compensates for Mercator projection distortions, selfstorage.com graphicly illistrates how a number of countries would fit inside Oklahoma – selected examples shown with this story.
Just to provide a few more facts,  Wikipedia.org provides detail:
Oklahoma is the 20th-most extensive and the 28th-most populous of the 50 United States. The state's name is derived from the Choctaw words okla and humma, meaning "red people."  The name was settled upon statehood, Oklahoma Territory and Indian Territory were merged and Indian was dropped from the name. On November 16, 1907, Oklahoma became the 46th state to enter the union. Its residents are known as Oklahomans, or informally "Okies", and its capital and largest city is Oklahoma City.
A major producer of natural gas, oil, and agricultural products, Oklahoma relies on an economic base of aviation, energy, telecommunications, and biotechnology. In 2007, it had one of the fastest-growing economies in the United States, ranking among the top states in per capita income growth and gross domestic product growth. Oklahoma City and Tulsa serve as Oklahoma's primary economic anchors, with nearly two-thirds of Oklahomans living within their metropolitan statistical areas.
With small mountain ranges, prairie, mesas, and eastern forests, most of Oklahoma lies in the Great Plains, Cross Timbers and the U.S. Interior Highlands—a region especially prone to severe weather. In addition to having a prevalence of English, German, Scottish, Scotch-Irish, and Native American ancestry, more than 25 Native American languages are spoken in Oklahoma, second only to California.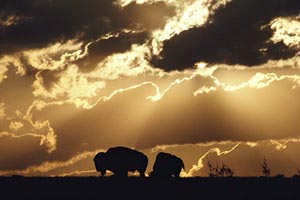 Oklahoma is located on a confluence of three major American cultural regions and historically served as a route for cattle drives, a destination for southern settlers, and a government-sanctioned territory for Native Americans.