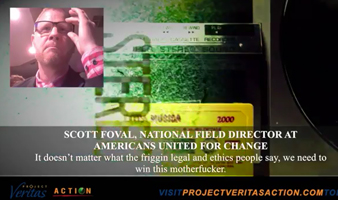 Update additional video: In an video report from Project Veritas Action, a Democratic dirty tricks operative unwittingly provides testimony detailing the dark money trail to the DNC and Clinton campaign. The video documents that violence at Trump rallies can be traced directly to the Clinton campaign and the DNC through a process called birddogging.
Scott Foval, one of the subjects of the video has already been removed from his job with the liberal advocacy group Americans United for Change a short 24 hours after the release Monday. Foval on camera says, "It doesn't matter what the friggin' legal and ethics people say, we need to win this motherfucker."
Fox News has released a quote from Americans United For Change [head] Brad Woodhouse stating. "Americans United For Change has always operated according to the highest ethical and legal standards. Scott Foval is no longer associated with Americans United for Change."
James O'Keefe told media outlets he believes this is not the end. "They want to make Scott Foval the fall guy. But this rot goes higher and deeper. This was a conspiracy to create a narrative that Trump supporters were dangerous and out of control. This scheme was created and approved at the highest levels of the Hillary Clinton campaign and the Democratic National Committee," O'Keefe said.
Foval is captured on video saying, "We are contracted directly with the DNC and the campaign. I am contracted to [Robert Creamer] but I answer to the head of special events for the DNC and the head of special events and political for the campaign. Through Bob. We have certain people who do not get to talk to them, at all."
Foval explains how the operation is set up to allow the DNC and the Clinton campaign "plausible deniability" in the event that the true nature of the deliberate violence is discovered: "The thing that we have to watch is making sure there's a double-blind between the actual campaign and the actual DNC and what we're doing. There's a double-blind there, so that they can plausibly deny that they heard anything about it."
Beyond dirty politics this is evil and, in some opinions, criminal. Warning: strong language.
Update: Tuesday's video shows that Foval then goes on to explain a sinister voter fraud plot and how they avoid getting caught. The undercover reporter asks why they can't just "bus in" voters, but get them to use their own personal vehicles. Foval describes how they avoid being detected and free of criminal charges. "Would they charge each individual of voter fraud? Or are they going to go after the facilitator for conspiracy, which they could prove? It's one thing if all these people drive up in their personal cars. If there's a bus involved? That changes the dynamic."
How do they keep it a secret from the American people and the FEC? Foval explains, "So you use shells. Use shell companies."
Foval and the Democrats don't think journalists, the media or the law can do anything to stop him, the DNC and the Hillary Clinton campaign.  "The question is, whether when you get caught by a reporter, does that matter? Because does it turn into an investigation or not? In this case, this state, the answer is no, because they don't have any power to do anything."