Part III of Project Veritas Action undercover investigation video released today exposes communications between Hillary Clinton's campaign, the Democratic National Committee (DNC) and the non-profit organization Americans United for Change prohibited by law. The meat of the matter is dressed as a duck.
Several undercover journalists catch Democracy Partners founder Robert Creamer directly implicating Hillary Clinton in an apparent Federal Election Commission violation of prohibited communications between "separate" organizations.
"In the end, it was the candidate, Hillary Clinton, the future president of the United States, who wanted ducks on the ground," says Creamer in one of several exchanges. "So, by God, we would get ducks on the ground."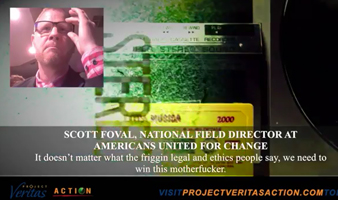 Early this year people wearing Donald Duck costumes started showing up at Donald Trump events all over the country. It was not spontaneous. Brad Woodhouse is the president of Americans United for Change (AUFC) worked with Robert Creamer, Scott Foval, and DNC Rapid Response Coordinator Aaron Black to launch the "Donald Ducks" campaign.
Hillary Clinton and the DNC wanted the Donald Duck agitators at Trump and Pence campaign events. The direct involvement of the campaign and the Democratic National Committee with Americans United for Change and activists wearing Donald Duck costumes appears to be an illegal coordinated campaign expenditures.
Federal campaign law experts are referenced by Project Veritas Action as declaring, "the ducks on the ground are likely public communications for purposes of the law.  It's political activity opposing Trump, paid for by Americans United for Change funds but controlled by Clinton and her campaign."
The video captures Robert Creamer saying, "I was actually on a plane to go to London last week — Christina Reynolds [Deputy Communications Director for Hillary for America] calls saying, 'I have good news and bad news. The good news is the candidate would like to have a mascot following around the duck — I mean, Trump.'"
Creamer then says, "If the future president wants ducks, we will put ducks on the ground."
This comes on the heels of Hillary's Campaign Manager, Robby Mook, telling CNN, "there's no evidence whatsoever, that we have been able to find that ANYONE EVER DID ANYTHING LIKE THIS when they were working for the DNC . . . no one who was working for the DNC or Clinton campaign was doing that."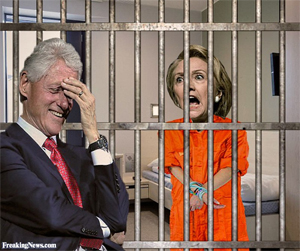 Well . . . Robby forgot to ask Hillary Clinton if she was involved in disrupting and inciting violence at Trump rallies. He probably should have, because in the video below the dark ops consultant Robert Creamer, the guy who visited the White House over three hundred times, say that Hillary herself directed them to take action.
Representatives of Clinton's campaign were on daily conference calls which Project Veritas Action journalists witnessed with Creamer, AUFC managers and their operatives.  They were talking about where to send the duck and the "duck's message."  Not only was the campaign in on it, but apparently Donna Brazille's Democratic National Committee was in on it as well.
After last week's stories released by Project Veritas Action (click here to reach the Tulsa Today story with both videos), Americans United for Change fired Scott Foval and Robert Creamer announced to the DNC that he was stepping down from campaign responsibilities.
James O'Keefe and Project Veritas Action have filed a complaint with the Federal Elections Commission (FEC).
Readers may reach the FEC at the following public email and by toll-free phone:
Regarding the FEC and the federal campaign finance law:

info@fec.gov
Campaign finance reports and data:

pubrec@fec.gov

 
Telephone Toll-free: 800-424-9530