Breitbart.com has compiled the active investigations of Hillary Clinton and her inner circle – at least the most important ones. In short, just about everyone tied to Hillary Clinton is the subject of a serious investigation which could last years.
Not all are the beneficiaries of those curious preemptive immunity deals tossed around by FBI leadership, to the consternation of some agents.
Breitbart.com continues: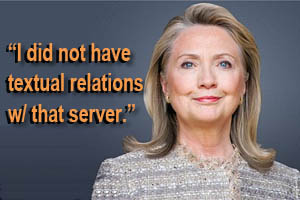 1. Clinton Email Scandal: As everyone knows, this supposedly de-railed investigation was dramatically hoisted back onto the rails by none other than Anthony Weiner – the accused pedophile who ended up with a huge trove of State Department emails on his computer, which the FBI seized because Weiner has been sending sexually explicit messages to a 15-year-old girl.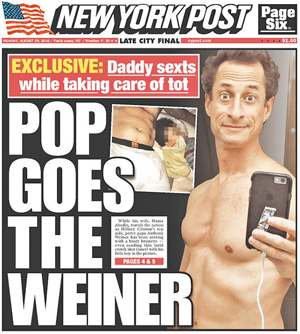 2. The Anthony Weiner Investigation: The poor judgment displayed by Hillary Clinton in allowing vital government emails to slip onto Anthony Weiner's computer is absolutely breathtaking.
Furthermore, Clinton's top aide Huma Abedin has trotted out the shopworn all-purpose Obama administration excuse that she knew nothing about the situation until she heard it reported on the news. That should disqualify her from ever obtaining any sort of security clearance, if Hillary Clinton had not already rendered information security a joke.
Both Abedin and Clinton could be in legal jeopardy, depending on what emails the FBI finds lurking in the diseased corners of Weiner's laptop. Weiner himself is absolutely in jeopardy, the kind that puts perverts in jail for long stretches of time. He has every reason to make a deal with law enforcement.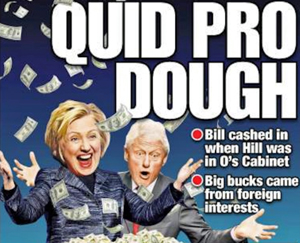 3. The Clinton Foundation Probe: We've learned an FBI probe of the Clinton Foundation for possible financial crimes and influence peddling has been in progress for over a year. As the Wall Street Journal put it, some of the investigators were "frustrated" because FBI leadership seemed "uninterested in probing the charity."
This is an investigation that could rope in a lot of people in Clinton's inner circle, besides Hillary and Bill Clinton themselves. Abedin is a player, and so is Hillary Clinton's chief of staff, Cheryl Mills, and another key aide, Philippe Reines. Bill Clinton's old "body man" Doug Band – basically the Littlefinger of Bill Clinton's financial empire, for you Game of Thrones fans – and even Chelsea Clinton could end up answering some tough questions.
Much will depend on whether the Clinton Foundation is scrutinized in isolation, or whether charges of influence peddling are pursued, at which point Hillary Clinton's entire retinue from her days in the Senate and State Department would have reason to feel nervous.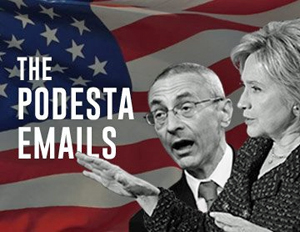 4. The Podesta Brothers: Most of those WikiLeaks bombshells the Clinton media is ignoring with such furious intensity are to, from, or copied to John Podesta, the CEO of Hillary Clinton's campaign, and probably the most powerful figure in Clintonworld not named "Clinton."
In one of the latest WikiLeaks revelations, Podesta is caught telling Cheryl Mills, "We are going to have to dump all those emails," and it would be "better to do so sooner than later." That sounds ominously like a conspiracy to destroy evidence in multiple federal criminal investigations, depending of course on which emails he was talking about, and what he meant by "dumping" them.
Podesta's brother Tony, and the brothers' Podesta Group lobbying firm, are involved in an FBI corruption investigation related to the deposed president of Ukraine, Viktor Yanukovych. The allegations boil down to illegal lobbying activities. Former Trump campaign chair Paul Manafort also has a company that figures in the same investigation, so people across the 2016 political battlefield get to feel nervous about this one – but Podesta's pipeline into the Clinton machine means more highly-placed people in her camp could become part of the investigation.
5. Terry McAuliffe's Campaign Donations: The Clintons' old friend Terry McAuliffe, currently the governor of Virginia, has been under FBI investigation for over a year by the Public Integrity unit over campaign fundraising and donations. Part of that investigation involves his time with the Clinton Global Initiative.
The events of greatest interest, until now, were some curious foreign donations, but now we've got the eye-popping sums of money McAuliffe steered to Virginia state senate candidate Jill McCabe, whose husband just happens to be Andrew McCabe, who just happens to be a top FBI official, and who just happened to end up in charge of the Clinton Foundation investigation.
This controversy doesn't seem to be fading despite rote denials of impropriety and swift media assurances it was all a big nothingburger. Some of those dismissals are based on Jill McCabe receiving her pile of McAuliffe money before her husband became involved with an FBI investigation of the Clintons, but not all of it was donated before that point, and it hardly strains credulity to assert that the Clinton machine was making down-payments for favors it knew full well it would need later.
The fascinating thing about these five investigations is not just that so many prominent people from the Clintons' orbit are caught up in them – the UK Daily Mail suggests a few more, lower-profile names – but that all of these cases could have trails leading to Anthony Weiner's computer.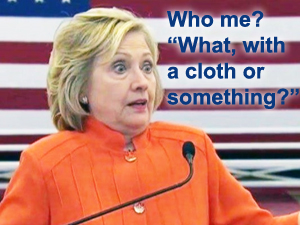 Clintonworld is looking like a carload of bandits in a chase film from the 1970s, heading for the state line with pedal to the metal, a swarm of cop cars roaring through the dust right behind them. Can Hillary Clinton and her crew hit the White House in a squeal of shredding tires and win total political immunity before the law catches up with them?
Stay tuned for the big finale on Election Day!