President-Elect Donald Trump has tapped Oklahoma Attorney General Scott Pruitt to be his Administrator of the Environmental Protection Agency on Wednesday, according to a source on Trump's transition team and the screams of many rabid environmentalists. This is the second time that Pruitt has met with Trump in regard to the position.
Pruitt, Attorney General since 2010, has been a skeptic and staunch opponent to President Obama's climate change agenda. Pruitt sued the EPA in 2015 on the grounds that the administration's Clean Power Plan would force Oklahoma to expend substantial resources, compromise investment and tax revenue, and threaten the health and welfare of Oklahoma's citizens by undermining electric reliability and affordability. This case is still pending.
The Attorney General has crossed swords with the federal government on other occasions as well, targeting the Affordable Care Act and an attempt to restrict medical abortions. In June, 2014, he also filed a brief with the Supreme Court on behalf of the Green family, founders of Hobby Lobby, stating that the owners of privately held companies shouldn't have to provide employees with birth control, if it is contrary to their religious beliefs.
Oklahoma Senators James Lankford and Jim Inhoffe released a joint statement expressing their support of President-Elect Trump's intentions. Lankford said, "Pruitt has served Oklahoma as a tireless defender of justice and law, and I am confident that he will serve America well. I look forward to working with him to restore a balanced approach to regulations and governance that fosters economic growth, advances energy independence and ensures stewardship for the environment."
Of course, Pruitt is not without his detractors. In an an article by Salon.com, Michael Burger said, "This is not good for climate law in America. Pruitt is a climate denier, who has stated his intention to dismantle EPA's climate regulations. We can and should expect he will attempt to do so, and that he will be sued every step along the way by states, cities and environmental groups devoted to continuing progress." Burger is the executive director of the Sabin Center for Climate Change Law at Columbia University.
Worldwide hysteria can be seen in the British based Sky News section under Sky Views by Hannah Thomas-Peter, identified as a New York Correspondent (thankfully not claiming to be a reporter of fact). In great distain the headline's dire warning proclaims, "Trump's latest hire could cost us all."
While Trump's choice of Pruitt as head of the EPA has already thrown domestic Democrats and Progressives into a frenzy, it should also calm conservatives who were collectively holding their breath when climate change proponent Al Gore met with President-Elect Trump and daughter Ivanka on Monday. The results of that meeting have not yet been disclosed.
Oklahoma's Governor Mary Fallin, a member of the Trump Transition Team said, "Attorney General Scott Pruitt is a tireless advocate of the precious balance of power between state and federal governments. In his nearly six years as attorney general, he led the charge to combat the ever-increasing overreach of the Obama administration. I applaud President-elect Trump's appointment of Scott Pruitt as head of the EPA. He will ensure states retain their decision-making policies, instead of having them transferred to the federal government."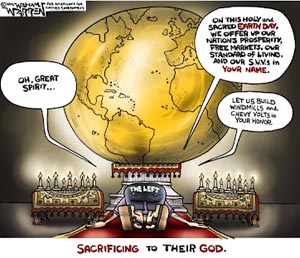 Further facts on the climate debate and Scott Pruitt as a skeptic of the EPA may be found at ClimateDepot.com by clicking here. The analysis suggests Pruitt will "dismantle climate agenda."
Attorney General Pruitt will still have to be approved during hearings held by members of the Environment and Public Works Committee before his nomination can be voted on by the US Senate.