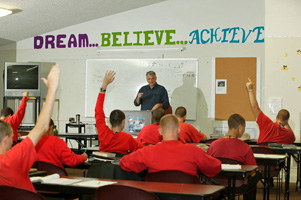 Thunderbird Youth Academy, located in Pryor, Ok., was established in 1993. The program is designed to reclaim troubled, at risk teens and redirect them to make positive changes in their lives. Thunderbird, a pilot program of the National Guard Youth Challenge Program, works with 16-18 year-olds works to infuse its students with values, self-discipline, education and life skills in order to lead productive lives.
Sean England is a recruiter at Thunderbird Academy who says that, although there are plenty of candidates for the school, recruiting the right students can be difficult.
"As you can imagine, asking a 16 year-old kid to leave their cell phone, their friends and their home and everything behind to get yelled at and go through a military program, it's not easy to get them to do that," he said. While motivation is a factor, it isn't the sole determination. England said that kids who had a lower motivation level had a higher success rate than those who were all-in right off the bat.
"This isn't a place for 'bad kids,'" England said. "If you're a teenager in today's society, you're at-risk. They are good kids but have made some poor choices. They just aren't getting (structure and discipline)."
Thunderbird Academy will usually receive over 300 applications for each session but only accepts 150 students. The next session begins January 15th and will accept applications up until the day before, if need be. The program lasts 22 weeks and sessions begin in January and July. Thunderbird challenges its cadets academically, physically and mentally and they must show improvement in these core components. Students can earn high school credit, a GED and obtain up to 6 hours of college credit through OSU Institute of Technology. A job-shadowing program is also available to students who obtain a GED while enrolled. They are also required to volunteer for community service.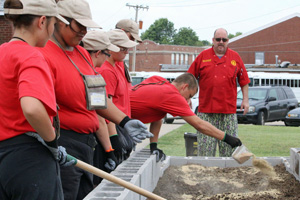 Mentors play a vital role in the lives of Thunderbird students both during and after their 22-week residence at the academy. While enrolled, students may interact with their mentors via letters, emails and scheduled visits, both onsite and off. Mentors will also perform one hour of community service with their charges. Once the students graduate, the mentor's job continues through the next year. They will help the graduates ease back into life at home and help them stay on track in achieving their goals. England says that a healthy relationship between mentor and student has proven to be critical in changing the lives of every graduate.
Mentor coordinator Vicki Smiddy says that mentors are asked to have four hours or four contacts per month with the cadet over the course of the next year to continue the support.
"It's so easy to think, 'I'm going to do this or that when I go home. I'm pumped up, I know that I'm going to change my life.' But things come up and roadblocks happen and cadets feel like (they) can't continue the motivation anymore," Smiddy said. Because mentors have been there through the residential phase, they can bridge the gap and provide support, motivation and be a "listening ear" when the cadet goes back home.
Unfortunately, mentors aren't always easy to come by. The students' families are asked to help in providing a mentor for their children, whether it be a family friend, coach, a fellow church member, etc. Potential mentors also have to fill out an application, provide references, go through an interview process, submit to a thorough background check and finally, a day of mentor training.
Smiddy said that finding a candidate who lives in the student's community who is willing commit to all of that can be a struggle. Regardless, over 3,700 at-risk teens have graduated from Thunderbird Academy since 1993. To learn more, visit the Thunderbird Youth Academy website at Thunderbird.org or their Facebook page by clicking here.