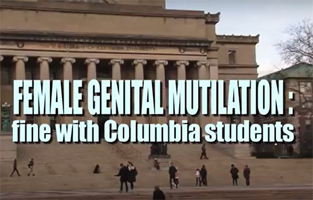 Video Report: The human rights group American Freedom Defense Initiative (AFDI) visited Columbia University to ask students if the government-funded women's clinic Planned Parenthood should include female genital mutilation as one of their services. The resulting video released January 3 in New York detailed disturbing responses from students enrolled at the ivy league school.
Out of the 20 students who were asked about the procedure, only one student rejected the idea of the organization performing the procedure. The rest of the students expressed support for the hypothetical idea, with one going so far as to emphasize that he supported the idea regardless of the female's age.
AFDI President Pamela Geller noted: "Students were asked if Planned Parenthood should fund and support female genital mutilation (FGM). FGM involves partial or total removal of the clitoris causing injury to the female genital organs for non-medical reasons. It has no health benefits for girls and women, and removes all possibility of sexual pleasure. It is the worst kind of misogyny. Procedures can cause severe bleeding and problems urinating, and later cysts, infections, as well as complications in childbirth and increased risk of newborn deaths."
The practice of female genital mutilation is illegal in the United States, but the procedure is alive and well in Africa and Middle Eastern countries. Geller explained: "We sent AFDI reporter Laura Loomer to Columbia and found the people there remarkably unconcerned about female genital mutilation… they condoned the introduction into the U.S. of this human rights abuse."
Geller is a former follower of Islam now known for anti-Islamic pro-America writings and her "Draw the Prophet" cartoon contest in Garland, Texas, where two Islamic men targeted the exhibit that featured cartoon and satirical images of Muhammad. The men were shot and wounded by police officers at the scene, and ISIS took responsibility for the attack.
Click here for more from Pamela Geller.
Click here for a report on the practice of FGM in Egypt from The Clarion Project.