One of the very sad stories this week was stunning racialist hate the Democratic National Committee Chair Candidates expressed at a public forum. Meeting to discuss what went wrong in 2016, they continued with identity politics while ignoring policy differences on issues that matter to the majority of voters.
The candidates blamed a particular scapegoat for the party's poor showing in November: Political consultancies owned by white people. They praised the riotous group Black Lives Matter.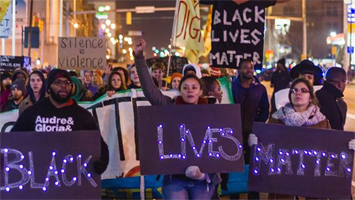 According to a report from Grabien News service, "We have to stop, particularly with the consultants," said the chairman of the South Carolina Democratic Party, Jaime Harrison.
Minority consultants "need to get the same resources that the white consultants have gotten," said a Fox News analyst and candidate for the chairmanship, Jehmu Greene. "The DNC did a piss poor, pathetic job" attracting minorities, she said.
Democrats must provide "training" that focuses in part on teaching Americans "how to be sensitive and how to shut their mouths if they are white," urged the executive director of Idaho's Democratic Party, Sally Boynton Brown, who is white.
The event's moderator, MSNBC's Joy Ann Reid, asked the candidates how the party should handle the Black Lives Now movement. The candidates uniformly emphasized that the party must embrace the activists unreservedly.
No mention of violence against police officers or Black-on-Black crime within black communities was reported.
"It makes me sad that we're even having that conversation and that tells me that white leaders in our party have failed," Brown said. "I'm a white woman, I don't get it. … My job is to listen and be a voice and shut other white people down when they want to interrupt."
"This is life and death" she emphasized. "I am a human being trying to do good work and I can't do it without y'all. So please, please, please, get ahold of me. Sally at we-the-dnc.org. I need schooling so I can go school the other white people."
For more from Grabien News including video, click here.
UPDATE: Sally Boynton Brown later responded to the controversy her comments elicited. "Obviously they're being taken out of context," she said Tuesday. "I think that this is the issue we see with fake news. These media outlets take something completely out of context and sensationalize it, and now people across the country are sending me hate mail and thinking I'm saying something that's not true," according to the Idaho Statesman, click here for that report. Truth may not be Brown's forte.
Apparently, DNC folk and their beloved activists can say anything and then disavow it – like chanting, "Pigs in a blanket, fry 'em like bacon."