Merle Kilgore co-wrote "Ring Of Fire," carried Hank Williams Sr.'s guitar, managed Hank Jr. for more than two decades, and was inducted into the Nashville Songwriters Hall of Fame. Now, his grandson, Mark Rickert, gives readers an insider's look at Merle's larger-than-life world in a new book, "These Are My People"  (WriteLife Publishing) available for purchase now at Amazon, Barnes & Noble and local bookstores across the country. 
"We had a very close relationship," Rickert recalls. "I listened to his stories for hours on end, summer after summer. He was a character and his friends were superstars. His was a story I always believed should be told."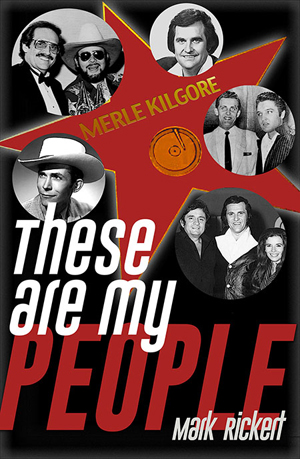 Mark has told it well; imbuing each chapter with details that only Merle or those closest to him would know. Kilgore died in 2005 and his funeral service was held at the Mother Church of Country Music: The Ryman Auditorium.
For Rickert, Johnny and June Carter Cash, Johnny Horton, Faron Young, Elvis, and other legends were the people who ruled the radio airwaves and populated "Daddy Merle's" tales. From wrecking hotel rooms with Cash to explorations into the "other side" with Horton and the often-hilarious anecdotes of his life as a disc jockey and as a performer on the Louisiana Hayride and the Grand Ole Opry, Merle lived life to the fullest. Blazing new career paths into the industry itself, Kilgore was undeniably a critical strand in the fabric of the Country music storyline.
"These Are My People" offers chapter after chapter of insights into the private lives of Merle and his friends, and includes a selection of more than 20 unique black and white photos. It is an engaging read ably presented in a unique format. Published by WriteLife, "These Are My People" is in bookstores now. It is Rickert's second book and follows the horror novel, "The Tone Poet."
Mark Rickert grew up in a Country music household, just a few miles from the Opryland USA Theme Park and the Grand Ole Opry, and only a block from the home of Colonel Tom Parker, Elvis Presley's manager. Mark's father even worked as a Nashville tour guide. But it was his grandfather, Merle Kilgore, who showed him the backstage side of the business.
The book shares amazing stories of Merle's life. For example, at age fourteen Merle carried the guitar for Hank Williams Sr. Four years later he wrote his first song, and Webb Pierce turned it into a million-seller. He double-dated with Elvis Presley, wrecked hotel rooms with Johnny Cash, held séances with Johnny Horton, and convinced Audrey Williams to put Hank Jr. on the road at fourteen-years-old.
Merle became a prolific songwriter, entering the Nashville Songwriters Hall of Fame. He co-wrote his signature accomplishment, Ring of Fire with June Carter Cash. This work is listed by CMT as one of the top four all-time country music songs.
Before publishing his first novel, Mark served eight years a photo-journalist for the U.S. Army Reserve, spending a year of that service in Baghdad, Iraq, writing for military publications. In 2008, he earned a Master's in English Literature from Middle Tennessee State University. Today, he works as chief of public affairs for an Army recruiting battalion.