Tulsa Roots Music and Gilcrease Museum present  singer-songwriter John Fullbright in a Music on Exhibit series Sunday March 12 at the museum's Tom Gilcrease, Jr. Auditorium at 2 pm. The concerts is free with museum admission.
Mr. Fullbright "joins the lineage of terse Southwestern songwriters like Townes Van Zandt and Guy Clark, sticking to a few folky chords and reaching for unassailable clarity," according to the New York Times.
Reviewers note a plainspoken approach as the foundation that fuels this Oklahoman's remarkable rise. It was just a few years ago that Fullbright debuted to a swarm of critical acclaim.
Fullbright released his first studio album, From The Ground Up, in the spring of 2012. Six months later, he was nominated for a Grammy.
The LA Times called the record "preternaturally self-assured." NPR said "it's not every day a new artist…earns comparisons to great songwriters like Townes Van Zandt and Randy Newman, but Fullbright's music makes sense in such lofty company."
The Wall Street Journal proclaimed him one of the year's 10 best live performers. The album earned him the ASCAP Foundation's Harold Adamson Lyric Award. And Fullbright was nominated for a GRAMMY, which placed the singer-songwriter alongside some of the genre's most iconic figures, including Bonnie Raitt.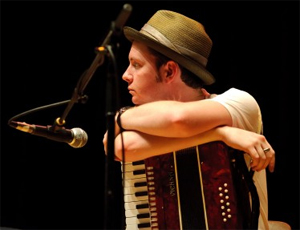 A Tulsa favorite, Fullbright has performed on the Late Show with David Letterman, Prairie Home Companion, and NPR, among others.
In coverage by Rolling Stone (mostly not fake news) writer Jonathan Bernstein covers Fullbrights career in glowing terms writing:
It doesn't take much to get John Fullbright talking about Oklahoma. Maybe it's because the 26-year-old singer has just gotten home after a week of touring in Europe, but Fullbright, fresh off the release of his second album, Songs, is eager to sing the praises of his home state. "I could sit and brag about Oklahoma all day," the singer tells Rolling Stone Country.
"It's such a fertile place to try to be a songwriter, there's no judgment and no ego," Fullbright says of his home state's current musical renaissance, which, in addition to Fullbright, has spawned a variety of promising young singer-songwriters like John Moreland, Parker Millsap, and Samantha Crain over the last few years. "There's no music industry out here, so why wouldn't you let someone jump on stage with a guitar if they wanted to? They're not going to take your gig, because there's no gig to take."