Green Day brought their Revolution Radio tour to Tulsa's BOK Center recently, delivering an energetic and entertaining set of their music past and present, along with a few surprises.
Following an audience sing-along to Queen's "Bohemian Rhapsody" and the appearance of a large pink rabbit mascot, frontman Billie Joe Armstrong exploded onto the stage for the band's opening song, "Know Your Enemy."
Green Day was greeted by an enthusiastic audience of diverse ages and three of those audience members were actually welcomed onstage at different times throughout the evening.
For nearly 2 ½ hours, founding members Armstrong, bassist Mike Dirnt and drummer Tre' Cool, with assistance from background vocalist and guitarists Mike Smith and Jeff Matika offered up selections from their 25-year catalog, including a healthy dose from their latest album, "Revolution Radio," and reaching all the way back to 1992"s "Kerplunk."
Never one to refrain from speaking his mind ("American Idiot" anyone?) Armstrong and the band offered just a smattering of political commentary, beginning with "Letterbomb" from the previously mentioned 2004 album, "American Idiot."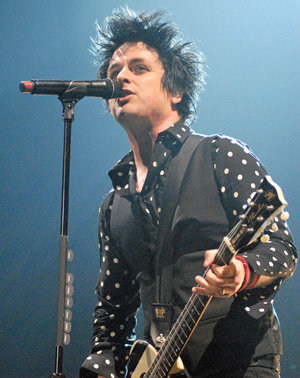 Armstrong told the crowd, "Tonight, we're going to leave some of the negatives behind.  We need to sing together," to which the audience complied.  Seeing fans standing near the front of the stage in the general admission pit area holding up cell phones, Armstrong asked, "are you looking at me through your camera lens?  If you're looking at me through your lens, then you're not really looking at me."
Now 45 years old, Armstrong still attacks the stage with youthful exuberance as he runs, leaps on top of speakers and jumps up and down along with those in attendance.
The Tulsa show was a homecoming of sorts for Armstrong. His mom is a native of nearby Sperry.  As he acknowledged his mother seated in the crowd he mentioned they had spent the day trying to locate her first house he'd never seen, as well as paying a visit to "The Outsiders" house and he thanked Mom for buying his first guitar when he was 10 years old.
At times Green Day's performance resembled an outdoor summer party, featuring pyrotechnics and Armstrong spraying the pit crowd with water provided through hoses.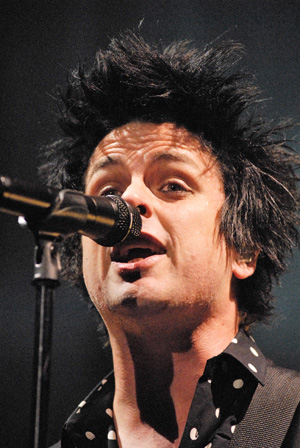 After asking those gathered closest to the stage if anyone knew how to play the guitar.  A woman named Janine answered the call and played Armstrong's guitar on a cover of "Knowledge" by Operation Ivy.  For her efforts she was told to keep the guitar, much to her delight.
After a raucous and intense "Jesus of Suburbia," the second encore and the concert itself, came to a close with Armstrong alone with an acoustic guitar performing "Ordinary World" from Revolution Radio and "Good Riddance (Time of Your Life.)"
As the crowd poured out of the arena, I'm certain they had the time of their life.
Photos and story by Greg Duke, Tulsa Today.