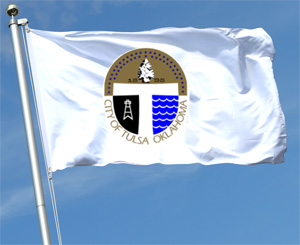 Opinion:  In the category of stupid stuff the Tulsa City Council has done, this may be the most classic for historians. Not the out-of-control budget or streets or street lights. Not runaway city pensions. Not public safety or public education (which they hold no authority to address) or even escalating bureaucracy with endless fees and worthless permits.
Our City Council Guardians of Pointless Pontification are pursuing designs for a new Tulsa Flag. Doesn't that just inspire your city pride?  (Read heavy with sarcasm.) 
Not just to pick on the deluded Council, this is an idea that came from what the daily newspaper called, "Two concerned citizens, Jacob Johnson and Joey Wignarajah" who apparently felt the need to ask the City Council "to let them move forward with a privately funded social-media campaign to come up with a flag design."
Apparently these two don't know that citizens are free in America to "move forward" without permission and to "privately" design anything they may want.
Tulsa Today said nothing when the daily newspaper first noted the effort one day before the national presidential election. We were otherwise focused, but now the first designs have been released and… they stink.  Yes Virginia, they really are childish.
Joey Wignarajah is known even when the "news" doesn't seem to remember. He still promotes his eight month (April to November 2013) stint as former-mayor-now-economic-development-whatever Kathy Taylor's Director of Research. Wignarajah, according to his LinkedIn Profile became in December of 2013 Vice President, Argonaut Private Equity, a firm founded and owned by George B. Kaiser.
According to Bloomberg, Kaiser is the Principal Owner and President of Kaiser-Francis Oil Company, Inc. and Fountains Continuum of Care, Inc. He is the owner of Kaiser Midstream and serves as President of Tilco Inc. He is the President, Chief Executive Officer and Owner at GBK Corporation, Founder at Excelerate Energy, L.L.C. and Kaiser serves as the Chairman of BOK Financial Corporation and Chairman and Presiding Director of BOKF, National Association. Mr. Kaiser served as the Chairman and Director of Bank Of Kansas City, National Association. He has been a Director at BOK Financial Corporation since 1990. He serves as Director of GBK Corporation. In short, Kaiser currently owns Tulsa.  
Why does Wignarajah (MIT Sloan School of Management and Harvard Kennedy School of Government) and company think Tulsa needs a flag?  Tulsa Today called and spoke briefly with him, but Wignarajah declined comment saying "it is not a good time" and promised to call back.  As of publication; he has failed his personal assurance.
According to the web site TulsaFlag.com. "Our current flag isn't really a flag to begin with. It is actually just our city seal on a white background. City seals are meant be viewed close up on paper, because of the amount of detail – not on a flagpole viewed from 100 feet away. Also, it's copyrighted, meaning we can't mass produce this flag. Even if we wanted to fly this flag at our homes and businesses, it would be illegal. City ordinances forbid Tulsans from displaying their own flag."
Here is a clue Mr. Wignarajah, ask the City Council to change the flag ordinance.  Allow free display that is not contrary to community values if you want to avoid improper or offensive display. By the way, what happened to "Tulsa, A New Kind of Energy" with the logo design that went with that?  Is the effort here to copyright or trademark or what?
Any graphic designer could take the existing elements (Native Culture, Oil and Water) and stylize or update the historical look from the seal to a new flag. They could print flags out of their own money. Should such a flag become popular, a future council might even adopt it as the "official" flag of Tulsa and avoid the superficial, condescending, cultural and historic ignorance found in the presentation of the proposed flag designs.
In summary, Tulsa government has more pressing issues to deal with and historical images of any city should not be carelessly discarded. A reasoned logical individual should understand that especially Joey Wignarajah who summarizes his specialties on LinkedIn as "Market analysis, project management, government contracting, general management, proposal writing, construction management, strategic planning, operational planning, reconstruction planning, policy analysis, policy writing."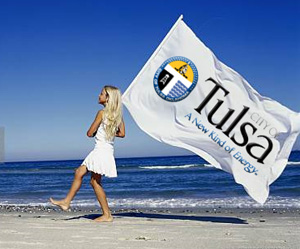 New images of Tulsa can and should be designed on a regular basis.  Good reader, go make one of your own today.  Maybe it will become popular. Maybe it will become a beloved part of Tulsa history.  Maybe you can make $10 billion on it.
Just don't involve the City Council.  They are busy on public stuff that matters – we hope!