Kim Dotcom is a German-Finnish Internet entrepreneur and political party founder who lives in Auckland, New Zealand. He claims, "I knew Seth Rich. I know he was the @Wikileaks source [for email leaks revealing Clinton Campaign corruption]. I was involved," and promised that he would release a full statement on Rich's murder. 
27-year-old Seth Rich was the disillusioned Democratic National Committee (DNC) staffer, believed to have leaked thousands of damaging DNC emails to WikiLeaks, who was murdered in the early morning of last July 10, in a residential Washington, D.C. neighborhood. The Democrats insist that the DNC emails had been hacked by Russia or agents in collusion with Moscow.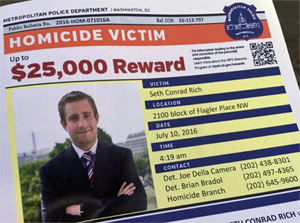 After teasing and making us wait for two days, this morning Kim Dotcom released his much anticipated "statement" on Seth Rich — the 27-year-old DNC staffer who was murdered last July 20 — which turned out to be something of an anticlimax. This is his statement:
#SethRich was a hero

I know that Seth Rich was involved in the DNC leak.

I know this because in late 2014 a person contacted me about helping me to start a branch of the Internet Party in the United States. He called himself Panda. I now know that Panda was Seth Rich.

Panda advised me that he was working on voter analytics tools and other technologies that Internet Party may find helpful.

I communicated with Panda on a number of topics including corruption and the influence of corporate money in politics.

"He wanted to change that from the inside."

I was referring to what I knew when I did an interview with Bloomberg in New Zealand in May 2015. In that interview I hinted that Julian Assange and Wikileaks would release information about Hillary Clinton in the upcoming election.

The Rich family has reached out to me to ask that I be sensitive to their loss in my public comments. That request is entirely reasonable.

I have consulted with my lawyers. I accept that my full statement should be provided to the authorities and I am prepared to do that so that there can be a full investigation. My lawyers will speak with the authorities regarding the proper process.

If my evidence is required to be given in the United States I would be prepared to do so if appropriate arrangements are made. I would need a guarantee from Special Counsel Mueller, on behalf of the United States, of safe passage from New Zealand to the United States and back. In the coming days we will be communicating with the appropriate authorities to make the necessary arrangements. In the meantime, I will make no further comment.
Our hope now is in Judicial Watch, the D.C.-based citizens' watchdog group.
President of Judicial Watch (JW) Tom Fitton says his organization is now investigating the murder of Seth Rich. Last week, JW filed Freedom of Information Act (FOIA) requests to the D.C. Metropolitan Police Department and the D.C. Mayor's Office. JW also has a FOI request to the FBI about the alleged DNC hack. Fitton says:
"You can trust Judicial Watch to get to the bottom of this issue…and to get the documents directly so that you and the American people can figure out whether or not there needs to be a controversy about this tragic murder, or whether there's something more than meets the eye."
This article first posted here.
See also: Was DNC's Seth Rich killed for Wikileaks?