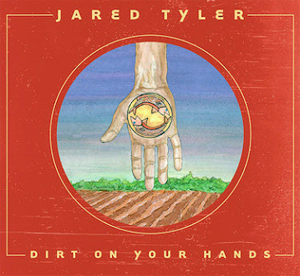 Music Video: Jared Tyler is releasing a  new album,  Dirt on Your Hands June 2nd  and to celebrate he will have a CD release party at Soul City of Tulsa the same night.
Tyler has worn hats as a producer and as a noted sideman (He has been playing with Malcolm Holcombe since 1999) and is once again stepping in front of the spotlight for his 3rd solo record. 
Main players on the record include Malcolm Holcombe, Kenny Vaughn, Dave Roe, and Dave Dunseath.  Notable guests include John Fullbright, Jellyroll Johnson, Mike Huber, Mike Cameron, Suzi Ragsdale, Casey Driessen, Seth Lee Jones, and Roger Ray.
"Pushing the envelop of roots/Americana, Tyler mixes old timey, folk, country blues and the rest of the magilla into a roux that can be rolled out in a mix or individually to great effect." Midwest Record
There is a line from Jared Tyler's bio that puts his career into perspective—"There is no best way to introduce Jared Tyler.  He's too many things."  Still in his 30's  the artist has accomplished so much in a short span of time. Playing Dobro with Malcolm Holcombe since 1999, he has also worked with many artists and bands such as Emmylou Harris, Merle Haggard, Wilco, fellow Okie John Moreland in a recording capacity or as a supporting act.  As a producer, he has worked with Jesse Aycock, Jimmy LaFave, Monica Taylor and Malcolm Holcombe, among others.
Dirt on Your Hands is Tyler's 3rd solo record.  He made his national debut in 2006 with Blue Alleluia (Produced by the legendary Russ Titelman) and followed up with Here with You in 2010 (co-produced with Chuck Zwicky who was the mixing engineer for Prince).  Dirt on Your Hands was co-produced with Nashville bassist, Dave Roe who also plays on the record.  This recent solo project has allowed for Tyler to collaborate dear friends and incredibly talented people with players and guest spots from John Fullbright, Malcolm Holcombe, Kenny Vaughn, and Jellyroll Johnson to name a few.
Already growing crowds in Tulsa and with a listening audience nationwide, Tyler is set to expand his audience with Dirt on Your Hands.  Written as a nod to his roots and community, the record is the most Americana/roots sounding project that he has ever released as an artist.  Described as World Beat-Americana-Soul, Tyler's music straddles many genres including folk, blues, bluegrass, country, gospel, red dirt and soul without losing focus on the songwriting and Tyler's voice.
Jared Tyler release
Dirt on Your Hands
SOUL CITY OF TULSA
1621 E 11TH St , TULSA, OK