With economic growth varying significantly from one state to another — Illinois is expected to have no budget for the third year in a row — the personal-finance website WalletHub conducted an in-depth analysis of 2017's Best & Worst State Economies. 
Oklahoma shows the 5th worst state economy in the United States.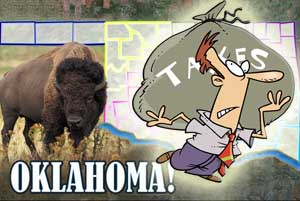 In order to determine America's top economic performers, WalletHub's analysts compared the 50 states and the District of Columbia across 27 key indicators of economic performance and strength. The data set ranges from GDP growth to startup activity to share of jobs in high-tech industries.
Economic Performance of Oklahoma (1=Best; 25=Avg.)
• 48th – GDP Growth
• 50th – Exports per Capita
• 26th – Startup Activity
• 44th – % of Jobs in High-Tech Industries
• 41st – Annual Median Household Income
• 46th – Change in Nonfarm Payrolls (2016 vs. 2015)
• 24th – Unemployment Rate
Oklahoma is listed ahead of Arkansas, Mississippi, Louisiana and West Virginia which came in 51 (list includes District of Columbia – explained for Leftists including former-President Obama who once asserted incorrectly during a formal public speech that there are 57 states.)  For the full report, click here.