OK Sen. Dan Newberry, R-Tulsa, is resigning his seat to pursue a promotion in his professional career. Newberry's resignation will be effective January 31, 2018. The governor must set a date for a special election to replace Newberry.
"It has been a true honor to serve as the senator from District 37. I want to thank my wife, my children, family and friends for their unwavering support during my service in the Senate," Newberry said. 
"Just as importantly, I want to thank the citizens of District 37 for placing your trust in me to represent you at the Capitol for nearly 10 years," Newberry added.
Newberry was first elected as senator from District 37 in 2008, and was re-elected in 2012 and 2016. He and his wife, Laura, have four children: Claire, Paige, Eva and Alex. Newberry is an executive at the Tulsa Teachers' Credit Union.
During his time in the Senate, Newberry was known as a conservative champion and an advocate for small business, most recently serving as chairman of the Business, Commerce and Tourism Committee.
"This wasn't an easy decision to make—however, Laura and I have made the difficult but necessary decision to focus on the needs of our family.  While we are optimistic about this new chapter in our lives, we are equally excited for the State of Oklahoma," Newberry said.  "I am certain the people of District 37 will choose a wise leader to help steward this great state to a prosperous future.  I will miss serving in the senate, but will work with my successor to ensure a smooth transition and uninterrupted representation for the district."
Newberry said he'd miss the many friends he made during his time in the upper chamber of the State Legislature.
"I can say without any hesitation that the men and women serving in the Oklahoma Senate – regardless of their party affiliation – are some of the most honorable and dedicated public servants who work each day to make Oklahoma an even better place. I will miss my Senate family, but will be praying and cheering them on as they continue to make Oklahoma the best place to work, live, and play."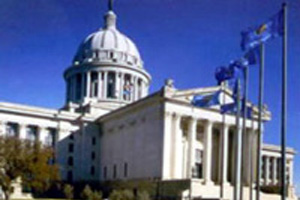 Newberry led recent reforms of the state's unemployment benefits program, lowering unemployment taxes paid by Oklahoma employers. The reforms also strengthened the state's workforce system and unemployment insurance trust fund which assisted in keeping unemployment low during the recent recession.
He has received multiple awards from Americans United for Life and Oklahomans for Life for authoring legislation which protects the sanctity of human life at all stages. He established the Gold Star Medal of Honor, which is given to the spouse or family members of an American soldier killed in action since 9/11. The Oklahoma Farm Bureau named him a member of the prestigious "100 Percent Club," and the Oklahoma State Chamber honored him with the Guardian of Free Enterprise award for championing the economic development and growth of business in our state.