There was a party atmosphere inside the BOK Center Saturday night for Luke Bryan's concert even before the lights went out.  When the arena went dark, Bryan appeared in silhouette lit from behind by bright white lights behind a sheer curtain.  When the curtain dropped, the 40 year-old Georgia native bounded onto the stage singing his opening number "Move" and the party was on.   
Since his debut album in 2007, Bryan has been a mainstay on the country music charts and Saturday's show was packed with number one hits like, "Crash My Party," "Roller Coaster," "Drunk On You" and "Huntin', Fishin' And Lovin' Every Day," which is the name of his current tour.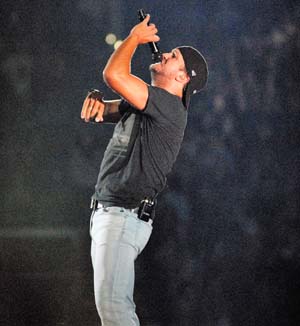 The main stage was huge and had a runway leading to a smaller diamond shaped stage in the center of the arena and the energetic Bryan used every inch of the setup.  If you didn't know this was a country show the laser lights, flames shooting high into the air and a cascading shower of sparks raining down from the ceiling were reminiscent of a major rock tour.
As Bryan moved from stage to stage he sometimes knelt down to sign photos and homemade posters and occasionally snapped selfies using cell phones he took from audience members hands.  Adding to the party atmosphere, Bryan tossed out cans of Miller Lite beer to audience members, pulling them out of a large cooler that was placed on the smaller stage.
Midway through his show, Bryan was joined on the small stage by his band where they performed Alabama's "Mountain Music," Don Williams' "Tulsa Time" and "Sweet Caroline" by Neil Diamond.
Unlike some touring artists, Bryan steered clear of making any political statements.  The closest he came was when he asked the crowd whether they supported the Oklahoma Sooners or the Oklahoma State Cowboys.  Based on the applause it appeared to be a 50/50 split.
After nearly two hours and 23 songs the show came to a close with another cover, "Paradise City" by Guns N' Roses.  A line in Bryan's song "Fast" says, "it just goes too fast."  Saturday night's audience, the large majority of them female would probably agree.
Story and Photos: Greg Duke, Tulsa Today.